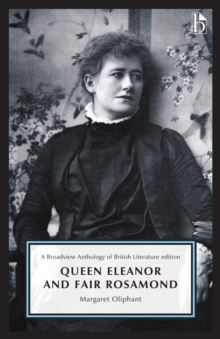 Queen Eleanor and Fair Rosamond
Paperback / softback
Description
Margaret Oliphant was widely recognized at the time of her death as one of the great Victorian writers of fiction-and, after a long period of eclipse, her fiction has in the twenty-first century begun to be again considered alongside that of such writers as Elizabeth Gaskell, Charles Dickens, George Eliot, Anthony Trollope, and Thomas Hardy.
Yet many of Oliphant's works remain unavailable-including many of the works of short fiction that arguably constitute her most accessible and most accomplished body of work.
In introducing the collection in which the novella Queen Oliphant and Fair Rosamond first appeared in book form, J.M.
Barrie argued that Oliphant's stories represent "some of her finest work-indeed nearly all of her deepest imaginings have appeared ... in this form." He went on to suggest that, in Queen Eleanor and Fair Rosamond Oliphant "gives us ... as terrible and grim a picture of a man tired of fifty years of respectability as was ever written." At least as important is the picture she gives us of the wife of that man.
It is the wife, indeed, who is at the center of Queen Eleanor and Fair Rosamond, which recounts the story of Mr. and Mrs. Lycett-Landon-"two middle-aged people in the fullness of life and prosperity"-and of what becomes of their marriage when Mr. Lycett-Landon (of the Liverpool office of cotton-brokers Lycett, Landon, Fareham & Co.) becomes uncommunicative while on an extended business trip to the company's London office. In addition to an illuminating introduction, this edition includes a variety of background materials that help to set this important and engaging work of short fiction in its literary and historical context.
Information
Format: Paperback / softback
Pages: 120 pages
Publisher: Broadview Press Ltd
Publication Date: 28/02/2019
Category: Classic fiction (pre c 1945)
ISBN: 9781554814275
Also in the A Broadview Anthology of British Literature Edition series