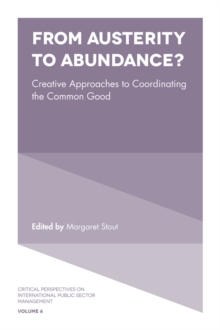 From Austerity to Abundance? : Creative Approaches to Coordinating the Common Good
Hardback
Description
This volume explores the ways in which civil society andgovernments employ transformative tactics of direct engagement in coordinatingefforts toward the common good.
The chapters highlight alternatives that arephilosophically and pragmatically different from neoliberal austerity measures, which reduce coproduction to a cost-saving tactic.
Instead of simplisticload-shedding and unfunded partnerships, collaborative governance andcoproduction increasingly take on characteristics of social movements, whereindirect citizen engagement in public policy making and administrativeimplementation are seen as the collective pursuit of human flourishing andabundance. These approaches counter the statusquo - both in terms of power dynamics and standard operating procedures.
Civilsociety is increasingly reclaiming its roots in the more informal mechanisms ofsocial movements.
As governments reach out to engage these groups, they mustdevelop a new stance toward collaboration - one that sees power as a generativeforce when shared rather than held through hierarchical or competitivedominance.
This book shows how, through this transformation, genuine public value can be produced.
Information
Format: Hardback
Pages: 224 pages
Publisher: Emerald Publishing Limited
Publication Date: 12/11/2018
Category: Politics & government
ISBN: 9781787144668
Also in the Critical Perspectives on International Public Sector Management series | View all