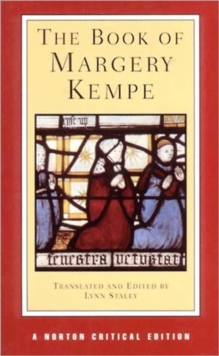 The Book of Margery Kempe
Paperback
Description
Kempe's work is accompanied by an introduction, a map of medieval England, a Kempe lexicon, and explanatory annotations. "Contexts" collects primary readings that illuminate The Book of Margery Kempe.
Included are excerpts from The Constitutions of Thomas Arundel, Meditations on the Life of Christ, The Shewings of Julian of Norwich, The Book of Saint Bride, and The Life of Marie d'Oignies by Jacques de Vitry. "Criticism" includes nine varied interpretations of the autobiography, written by Clarissa W.
Atkinson, Lynn Staley, Karma Lochrie, David Aers, Kathleen Ashley, Gail McMurray Gibson, Sarah Beckwith, Caroline Walker Bynum, and Nicholas Watson. A Selected Bibliography is also included.
Information
Format: Paperback
Pages: 328 pages
Publisher: WW Norton & Co
Publication Date: 10/11/2000
Category: Literary essays
ISBN: 9780393976397
Other Formats
Paperback from £7.79
EPUB from £3.99
Hardback from £45.00
Free Home Delivery
on all orders
Pick up orders
from local bookshops
Reviews
Showing 1 - 1 of 1 reviews.
Review by baswood
16/06/2015
A female author from the early 15th century who steps outside of the usual hagiographical texts to provide us with an original view of late medieval society; one that is far removed from knights, chivalry and courtly love.From our vantage point of the 21st century we might view her book as:1) An attempt by Margery or her followers to make a case for canonisation2) The extraordinary life of a brave woman who made her way in a world dominated by the all male clergy.3 The ravings of a religious fanatic who was intensely preoccupied with herself and whose hysteria borders on insanity.4) A mystic who was a witness to divine mercy and revelation and who wished to provide comfort and solas to those that followed her.Margery's book may be all of these things and Lynn Staley who has edited the Norton Critical Edition describes it as an electrifying text. The manuscript was discovered in 1934 and recognised as an invaluable find. It is a unique document from the late middle ages because it was never sanitised or polished by cult followers and remains as it was originally produced. It shines a light on gender issues, culture and society of early 15th century Europe.Reading the book of Margery Kempe with a modern perspective will only reveal half of the story. C S Lewis in his Studies in Medieval and Renaissance Literature, likens it to a tourist abroad who is only satisfied when he finds things in a foreign country that he values back home; similarly the highlights of a medieval text for the modern reader are those bits that reflect the viewpoints of the modern age. To dig a little deeper it is necessary to read around the subject, for example other medieval texts, social history or critical essays. The Norton Critical edition helps the reader to do this by including extracts from relevant texts in context as well as critical essays from noted medievalists and a bibliography for further reading. All this helps us to see Margery more clearly with the eyes of a reader or compatriot of her times.Margery Kempe was the daughter of a powerful Burgess living in an important provincial town in England. She married within her mercantile class and had 14 children and had found the time to try her hand as a business woman. before she became convinced that she had been chosen by God to lead an exemplary life of chastity, fasting and penance in praise of Him. Her first task was to persuade her husband to become celibate and to provide her with the freedom to embark on pilgrimages to Jerusalem and Rome. She was soon talking directly to Jesus and experiencing extreme reactions to holy relics, sites and to preachers. Here is what happens to her when she arrives with a group of pilgrims at Calvary:" She fell down so that she might not stand or kneel, but wallowed and twisted with her body, spreading her arms abroad, and cried out with a loud voice as though her heart should have burst asunder.........the crying was so loud and so wonderful that it made the people astonished, unless they had heard it before or else they knew the cause of the crying. And she had them so often that they made her right weak in her bodily mights, and namely, if she heard of our Lords passion."Her crying and sobbing soon made her unpopular with those groups of pilgrims that she happened to be travelling with and she frequently found herself ostracized. This only strengthened her resolve because she believed that she must suffer all trials and tribulations to prove herself to God. She comes to believe she is married to the Godhead:"And then the Father took her by the hand in her soul, before the Son and the Holy Ghost and the Mother of Jesus and all the twelve apostles and Saint Katherine and Saint Margeret and many other saints and holy virgins and a great multitude of angels saying to her soul. "I take you Margery for my wedded wife for fairer or fouler for richer or poorer so that you be buxom and obedient to do what I bid you to do..........Therefore must I needs be homely with you and lie in your bed with you. Daughter you desire greatly to see me, and you may boldly when you are in your bed, take me to you as your wedded husband." Margery always speaks of herself in the third person and we are never allowed to forget she is a sexual being in her thoughts and desires. She is now filled with the holy fire and is convinced that her prayers can achieve miracles. Back in England and she experiences problems with the church authorities. She is almost run out of town in Bristol and soon after arriving in York she faces an inquisition in the Charter House in York Minster. She is accused of Lollardry and heresy, but her orthodox answers to the questions put to her and her standing with powerful friends within the church see her through. She is detained again in Hull and in Leicester and faces further inquisitions, but again with the help of friends inside the church she is allowed to go free. She roams the country visiting various pilgrim sites and visits the famous anchoress Julian of Norwich. She takes time out to nurse her terminally ill husband, but her visions become more intense and she sees herself present at Christ's Passion comforting the Virgin Mary. Now in her old age she believes she must undertake further pilgrimages abroad and as usual her weeping and crying continue to divides opinion wherever she goes.Margery Kempe led an extraordinary life as a religious mystic, all the more extraordinary because she was a married woman all alone in a world dominated by the all male clergy, many of whom resented her piety and her passion. She had to fight many battles to lead her chosen life, including finding someone to write her book for her. She claimed not to be able to write herself which served her purpose in refuting charges of heresy. She was in physical danger for much of her time on the road; in constant dread of being defiled and at one point was threatened with rape by the steward of Leicestershire before she faced an inquisition. As a business woman however she saw the advantages in pilgrimages and the collection of indulgences and always found someone to help her when in dire need.There was no way into the official church for a woman and Margery's assertion of her right to speak out brought her in continual opposition to men of the cloth. There were prescriptions against women speaking out on religious matters and Margery always ran the risk of being accused of Lollardry (heresy). Lollard's believed that lay people had the right to spread the word of God. The prescriptions were there to protect the power of the clergy and so were usually enforced. Margery was by no means the first women mystic of the middle ages and while it could not be said to be a well trodden path there were certainly others around. St Bridget of Sweden (1303-1373) was well renowned and Margery was familiar with her life and teachings. There is no doubt that Margery had an obsessive personality that both attracted and repelled others. Her continual breaking down into sobbing and weeping and her need to confess at almost every opportunity must have placed a considerable burden on friends and followers alike. Much of this was in keeping with her chosen profession and how much of her behaviour was due to her business head, her faith, or mental disorder we will never know. What is beyond doubt is her courage, her resourcefulness and her love of God.Margery Kempe's book is brought to life by Lynn Staley's excellent translation, which in its phrasing and intonation has a medieval feel to it. I think this book provides ua with a window into at least one aspect of medieval life: that of the itinerant mystics who trod a dangerous path between orthodoxy and heresy. I am sure the book will not appeal to everybody, as being inside the head of a fanatically religious women will not be to every body's taste, but it thrilled me. Let Margery have the last word about her book (she continually refers to herself as "the creature"):"Also while the aforesaid creature was occupied about the writing of this treatise, she had many holy tears and weepings and often times there came a flame of fire about her breast, full hot and delectable, and also he who was the writer could not sometimes keep himself from weeping. And often in the meantime, when the creature was in church, our Lord Jesus Christ with his glorious Mother and many saints also came into her soul and thanked her saying that they were well pleased with the writing of the book."
Also in the Norton Critical Editions series | View all