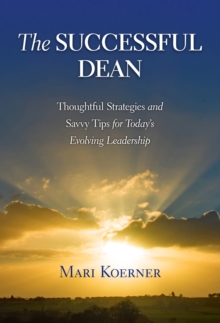 The Successful Dean : Thoughtful Strategies and Savvy Tips for Today's Evolving Leadership
Hardback
Description
What does leadership and change actually look like in myriad situations?
This "boots-on-the-ground" resource, written by a former dean of education, pulls back the curtain on the crucial and complicated role of senior leadership and brings to the forefront experiences that often go unspoken.
With humor and common-sense advice, the author draws on relevant scholarship to uncover the process for succeeding and thriving as a leader. The portrait of a dean is presented as a thoughtful activist whose leadership is defined by careful consideration of the responsibilities of the position and ethical responses to it all.
Themes woven throughout the book include staying authentic, having courage, and remaining fair. Learning from the past but presenting a contemporary view, The Successful Dean responds to the rapidly changing context of higher education.
Book Features:Refreshing and uplifting view of the deanship from an experienced dean. Explores how to maintain thoughtfulness in the stressful life of an administrator. Offers clear pointers for practice including leading through adversity, as well as being satisfied in and enjoying the role. Engaging reflection questions at the end of each chapter.
Brief and accessible chapters make this a perfect "go to" resource for deans and other senior administrators, and those who aspire to those roles.