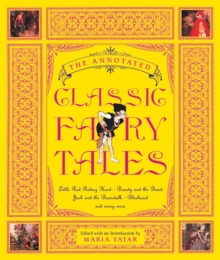 The Annotated Classic Fairy Tales
Hardback
Description
The Annotated Classic Fairy Tales is a remarkable treasure trove, a work that celebrates the best-loved tales of childhood and presents them through the vision of Maria Tatar, a leading authority in the field of folklore and children's literature.
Into the woods with Little Red Riding Hood, up the beanstalk with Jack, and down through the depths of the ocean with the Little Mermaid, this volume takes us through many of the familiar paths of our folkloric heritage.
Gathering together twenty-five of our most cherished fairy tales, including enduring classics like "Beauty and the Beast," "Jack and the Beanstalk," " ," and "Bluebead," Tatar expertly guides readers through the stories, exploring their historical origins, their cultural complexities, and their psychological effects.
Offering new translations of the non-English stories by the likes of Hans Christian Andersen, Brothers Grimm, or Charles Perrault, Tatar captures the rhythms of oral storytelling and, with an extraordinary collection of over 300 often rare, mostly four-color paintings and drawings by celebrated illustrators such as Gustave Dore, George Cruikshank, and Maxfield Parrish, she expands our literary and visual sensibilities.
As Tatar shows, few of us are aware of how profoundly fairy tales have influenced our culture.
Disseminated across a wide variety of historical and contemporary media ranging from opera and drama to cinema and advertising, they constitute a vital part of our storytelling capital.
What has kept them alive over the centuries is exactly what keeps life pulsing with vitality and variety: anxieties, fears, desires, romance, passion, and love.
Up close and personal, fairy tales tell us about the quest for romance and riches, for power and privilege, and, most importantly, they show us a way out of the woods back to the safety and security of home.
Challenging the notion that fairy tales should be read for their moral values and used to make good citizens of little children, Tatar demonstrates throughout how fairy tales can be seen as models for navigating reality, helping children to develop the wit and courage needed to survive in a world ruled by adults.
This volume seeks to reclaim this powerful cultural legacy, presenting the stories that we all think we know while at the same time providing the historical contexts that unlock the mysteries of the tales.
The Annotated Classic Fairy Tales is a volume that will rank as one of the finest fairy tale collections in many decades, a provocative and original work to be treasured by students, parents, and children.
Information
Format: Hardback
Pages: 448 pages, Over 300 often rare, mostly four-color paintings and drawings by celebrated illustrators
Publisher: WW Norton & Co
Publication Date: 17/10/2002
Category: Children's literature studies: general
ISBN: 9780393051636
Free Home Delivery
on all orders
Pick up orders
from local bookshops
Reviews
Showing 1 - 2 of 2 reviews.
Review by caerulius
16/06/2015
I have a passion for fairy tales. This one is a good reference, covering multiple versions of each in the annotations, and providing notable illustrations that have served them over the years. An excellent book for lovers of fairy tales, it addresses not only the universally known standards, but a few of the less paraded tales as well.Tales include:Little Red Riding HoodCinderella, or The Glass SlipperHansel and GretelBeauty and the BeastSnow WhiteSleeping BeautyRapunzelThe Frog King, or Iron HeinrichRumpelstiltskinJack and the BeanstalkBluebeardThe Juniper TreeVasilisa the FairEast of the Sun and West of the MoonMolly WhuppieThe Story of the Three Little PigsDonkeyskinKate CrackernutsMaster Cat, or Puss in BootsThe Story of the Three BearsTom ThumbThe Emporer's New ClothesThe Little Match GirlThe Princess and the PeaThe Ugly DucklingThe Little MermaidIt also includes biographies of Authors, and artwork by Gustave Dore, George Cruikshank, Edmund Dulac, Arthur Rackham and Maxfield Parrish, among others. A beautiful book.
Review by waltzmn
16/06/2015
This book has both the strengths and the weaknesses of the "Annotated" series. Strengths, in that it takes good material and makes it better. Weaknesses, in that it sometimes really misses the (probable) point.To take an example, the book makes no strong distinction between FOLK tales and COMPOSED tales such as the work of Hans Christian Andersen. This is a significant point, because folk tales look backward (they had to appeal to those who transmitted the tales), whereas the modern tales had to look forward (Andersen had to get someone to publish the things). A modern tale will have a modern moral, often making it easier to understand. An old tale may focus more on the methods and motifs of folklore.Then, too, a folk tale is a cultural study in miniature. This should be brought out, and too often it isn't. The studies of folk motifs are considered some of the most important elements in the field, and they aren't studied here.Bottom line: If you really want to get your folklore right, this book isn't for you.On the other hand, if you want a nice mix of familiar fairy tales, with some that are less familiar, and if you want a few hints at tricky points, this is a very good book. And the source notes are helpful if not as full as I would like. The book also shows the way a number of illustrators have handled the tales. I found this distracting -- folktales are oral, not painted! But the variety of illustrations is genuinely interesting.
Also in the The Annotated Books series | View all