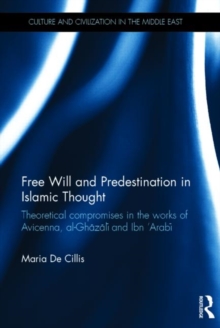 Free Will and Predestination in Islamic Thought : Theoretical Compromises in the Works of Avicenna, al-Ghazali and Ibn 'Arabi
Hardback
Description
The subject of "human free-will" versus "divine predestination" is one of the most contentious topics in classical Islamic thought.
By focusing on a theme of central importance to any philosophy of religion, and to Islam in particular, this book offers a critical study of the intellectual contributions offered to this discourse by three key medieval Islamic thinkers: Avicenna, al-Ghazali and Ibn 'Arabi.
Through investigation of primary sources, Free Will and Predestination in Islamic Thought establishes the historical, political and intellectual circumstances which prompted Avicenna, al-Ghazali and Ibn 'Arabi's attempts at harmonization.
By analysing the theoretical and linguistic 'techniques' which were employed to convey these endeavours, this book demonstrates that the three individuals were committed to compromise between philosophical, theological and mystical outlooks. Arguing that the three scholars' treatments of the so-called qada wa'l-qadar (decree and destiny) and ikhtiyar (free-will) issues were innovative, influential and fundamentally more complex than hitherto recognized, this book contributes to a fuller understanding of Islamic intellectual history and culture and will be useful to researchers interested in Islamic Studies, Religion and Islamic Mysticism.
Information
Format: Hardback
Pages: 260 pages
Publisher: Taylor & Francis Ltd
Publication Date: 16/12/2013
Category: Islamic & Arabic philosophy
ISBN: 9780415662185
Also in the Culture and Civilization in the Middle East series | View all