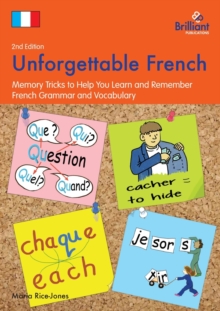 Unforgettable French, 2nd Edition : Memory Tricks to Help You Learn and Remember French Grammar and Vocabulary
Paperback
Description
UnforgettableFrench, 2nd editionhas been completely updated to meet the requirements of the 2014 NationalCurriculum for England for foreign languages, which stipulate, not only a firmknowledge of grammar, but also the ability to understand and manipulate thelanguage. UnforgettableFrench usesmemory tricks to teach French and reinforce major points of French grammar fromthe basics up to passe compose, le futur proche and le futur simple, tolearners of all ages.
It may be used: By anyone who wishes to gain confidence inspeaking French As a revision aid, to consolidate thelearner's grasp of grammatical points and to help them revise To complement whatever French scheme you areusing To make French memorable To revise French Grammar, French vocabulary,French nouns and French verbs By French teachers to all ages, from primarythrough to adult. UnforgettableFrenchis full of tried-and-tested French memory tricks based on sound and ideaassociations to help you to engage your memory and remember key grammaticalpoints.
Using French memory tricks to explain the "tricky" bits facilitates thelearning process and what seemed difficult before is suddenly much easier toremember. The memory tricks arepresented in a highly visual, page-by-page format, with illustrations andstories, to help you to visualize the language better.
The colour coding makesit easy to locate the memory tricks you need, making this an essentialreference tool for anyone studying French. This edition containshandy exercises, so that you can check your understanding of each memory trickas you progress through the book.
Information
Format: Paperback
Pages: 102 pages
Publisher: Brilliant Publications
Publication Date: 10/10/2013
Category: Languages other than English
ISBN: 9781783170937
Free Home Delivery
on all orders
Pick up orders
from local bookshops
Also by Maria Rice-Jones