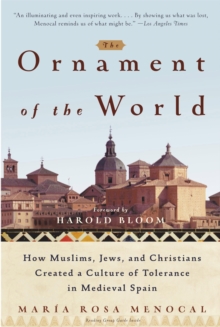 The Ornament Of The World
Paperback
Description
A rich and thriving culture where literature, science and religious tolerance flourished for 700 years is the subject of this enthralling history of medieval Spain.Living side by side in the Andalusian kingdoms, the 'peoples of the book' produced statesmen, poets and philosophers who influenced the rest of Europe in dramatic ways, giving it the first translations of Plato and Aristotle, love songs and secular poetry plus remarkable feats of architecture and technology. This evocative account explores the lost history whose legacy and lessons have a powerful resonance in today's world.
Information
Format: Paperback
Pages: 352 pages, Section: 8, b/w
Publisher: Little, Brown & Company
Publication Date: 01/01/2001
Category: European history
ISBN: 9780316168717
Free Home Delivery
on all orders
Pick up orders
from local bookshops
Reviews
Showing 1 - 5 of 6 reviews.
Previous | Next
Review by deliriumslibrarian
16/06/2015
Jewish poets writing in Arabic. Christians learning from great Islamic scholars. Muslims commissioning Christian artists. Maria Menocal's book explores the world of the "convivencia," the great experiment in living together that was created by the Umayyad amirate in Cordoba, after the model of Damascus and Baghdad. Menocal carefully examines mythic historical figures from all three Abrahamic religions, and demonstrates the complex contributions of each faith to the world of Mozarabic Spain and the incredible cultural, scientific, architectural and political enrichment it brought to the fragmented, struggling continent on its borders. Europe, as Menocal argues, is profoundly the product of a diverse Islamic civilisation that created a Golden Age lasting over 2 centuries.
Review by brett_in_nyc
16/06/2015
This book is another really great one. It is long and hard to read, and full of details of Kings and Moorish Knights wacking each other over centuries of Feudal life in Spain and Portugal. It does a wonderful wonderful job of painting a picture of how Spain blossomed after Rome fell apart, around the dealings with manuscripts and books and translated them into all kinds of useful languages through teams of translators who worked together going from one text to another through a third intermediate language. Makes what seems like a hard and solitary job to be actually quite fun and interactive. Maybe it is like the baton passing to San Francisco, California in the 21st Century from a tired Atlantic Northeast or Rust Belt in the 19th/20th. Classical Italy fell apart and life really took off in Spain, driven by the Umayyad and Moorish kingdom established there when the Christians were still north of the Pyrenees. Italy blossomed again later in Florence and Venice for the Enlightenment as Spain went for a bit of a bad time (that just ended with the EU!). Toledo was the great place where all the classical and mystical manuscripts ended up from Alexandria and other places in Byzantium, Ottoman empire and Persia, and an idealized culture of Jews, Arabs and Christians worked together to translate things from Latin, Greek, Hebrew, Aramaic, Arabic into languages for consumption in Europe up north. I love the story of the mysteries of the Astrolab, which comes straight out of Arabic/Persian knowledge that changed the world for Christians through all the translated books about it that ventured north where the dark ages were in full fury. Of course that would eventually lead to the kind of seafaring and colonizing those European Christians would become known for. The crusades were going on through all of this too, which made for some very tense moments in Spain since the Arabs, Moors, Jews and were all there too with invading Christian Goths, whose Kings were losing their confidence and increasingly zenophobic. It is a great great story, and lots of lessons for today, but I am sure not too many people are listening. Although not like everybody was hanging out at each other's houses and partying together. Despite all they achieved with their polyglot day jobs, they had real strict social divisions and didn't participate in each others' Weddings, Passover, Ramadan, or Easter feasts, that is for sure, although the music, architecture and fashion crossed over to create something very chic and unique for Europe at the time, not to mention books books glorious books. By the way, Castilian Spanish was invented at the time to unify the peninsula and it was forced on people (so Ladino, Arabic, Hebrew and many others like Basque, Catalan were suppressed as they remain to this day despite recent agitation since the Civil War). Someone invented the first grammar book for Spanish and royals would work hard to enforce that over time. It was the first moment of 'nation' building that would of course become modus operandi later on for more 'nations'. The story ends badly as we know and makes you kind of wonder how things can go so terribly wrong, but it must have something to do with economic and territorial panic, the Black Plaque, religious hysteria and propoganda turned into zenophobia. Jewish mysticism and kabbalah took off after that shock, along with conversions of Muslims and Jews and movement of 'Spanish and Portuguese Jews' to North Africa, Italy, Netherlands, and the Ottoman Empire. About 100 yrs later they turned up in Brazil, Curacao and New Amsterdam, where they flourish to this day. Spinoza came from them and the Netherlands golden age, the first republic in Europe, followed the end of the Spanish golden age, which became over stretched and underfunded despite Inca slaves in gold mines for 100 years! Sound familiar????This is the best quote from the book, I will let you find it:"He had a brilliant goldsmith make two rings identical to the first. All three sons thus inherited his divided kingdom, and thereafter no one was ever able to tell the original from the copies. The reader understands that Saladin's question itself springs from a universe used to the difficulty of such questions and not from any simpleminded or monochromatic orthodoxy."
Review by tronella
16/06/2015
I'm not usually into history books, but this one worked pretty well for me. It covers the history of medieval Andalusia, from when the Abd al-Rahman became governor of Córdoba in the eighth century until the Catholic Monarchs expelled Jews and Muslims from Spain in the fifteenth, and focuses on cultural changes (poetry, religion, architecture, translation) occuring in this period. While the writing is a little repetitive in places and I could have done without the names being anglicised everywhere, the book does a great job of conveying the mood and multiculturalism of a time-period usually thought of as being pretty backward.
Review by bunwat
16/06/2015
Well I tried, but in the end it had to go back to the library before I was done. And I am quite interested in the subject of al Andalus and the Muslim presence in medieval Spain. Maybe it was bad timing or maybe this book just wasn't the right fit at this point. <br/><br/>Its a series of vignettes about various different figures from 1009 to 1492 - well written vignettes, but for me it was too much hopping about from one person in one part of the territory for twenty pages and then another person living 50 or 100 years later and several hundred miles away for the next thirty pages. I kept getting lost - who is this? how is he related to the previous person? where are we? <br/><br/> Maybe if I was more familiar with the history to begin with I would have been less confused and more able to connect with the story. Or maybe it was the holidays and I was just too distracted. I might come back to this another time.
Review by bezoar44
16/06/2015
Maria Rosa Menocal's episodic history of medieval Spain is well organized, erudite, and romantic. The book starts with a long chapter that surveys the period, roughly 780 through 1360. Shorter chapters then provide vignettes lifted out of the larger history, focusing on scenes or people whose lives illustrate the broader trends and turning points. Overall, the story consists of three periods: the initial caliphate, which brought Arab and Muslim culture to Spain; the taifa era, in which the fusion of Muslim, Christian, and Jewish cultures flourished among a bunch of city states; and a final era in which the Christian kingdom of Castile transmitted texts and culture from the fusion culture to western and northern Europe. Throughout, Menocal celebrates cultures of tolerance and blames religious conservatives - both Muslims and Christians, at different points -- for shattering the economic and political context that made the Andalusian melange possible. Menocal's writing brings the historical figures to life, and offers plenty of jumping-off points for further reading. At the same time, while the scholarship underpinning the book is objectively of high quality, the mood is deeply personal. Menocal loves this period, and she doesn't spend much effort discussing how difficult or brutal life remained, even in the tolerant times. Consistent with her academic interests, the book emphasizes thinkers and writers; this is a history of elite culture, with occasional glimpses of popular culture and very little economic analysis. As an introduction to the period, I found it far more interesting and memorable than David Levering Lewis' 2008 book, God's Crucible.