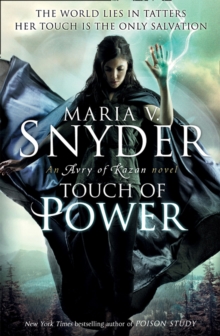 Description
THEY DESTROYED HER WORLD. BUT SHE'S THEIR ONLY HOPE...Avry's power to heal the sick should earn her respect in the plague-torn land of Kazan.
Instead she is feared. Her kind are blamed for the horrifying disease that has taken hold of the nation.
When Avry uses her forbidden magic to save a dying child, she faces the guillotine.
Until a dark, mysterious man rescues her from her prison cell.His people need Avry's magic to save their dying prince.
The very prince who first unleashed the plague on Kazan.
Saving the prince is certain to kill Avry - yet she already faces a violent death.
Now she must choose - use her healing touch to show the ultimate mercy or die a martyr to a lost cause?
Information
Format: Paperback
Pages: 400 pages
Publisher: HarperCollins Publishers
Publication Date: 01/04/2012
Category: Fantasy
ISBN: 9781848450929
Free Home Delivery
on all orders
Pick up orders
from local bookshops
Reviews
Showing 1 - 1 of 1 reviews.
Review by wyvernfriend
16/06/2015
I quite enjoyed this but occasionally the echoes of Poison Study were occasionally a bit loud. There were enough differences to make it interesting but at the same time it felt sameish.Avry is a healer in a world where there's a bounty on their heads, where she lives in fear of being caught and killed, but where also her healing gifts almost compel her to heal. The bounty is there because the healers couldn't control the plague that swept through the world and killed many people. Avry is rescued by a group of people determined to get her to help them heal their prince but what they don't know is that she heals by taking on the illness and healing it quicker than most. However the plague has killed healers, she may have to choose between her life and a better future for others and she's not sure who to trustI liked it, I liked the characters and I'm really curious about the Death Lilies which will mean that I will be reading more in this series.
Also in the An Avry of Kazan Novel series