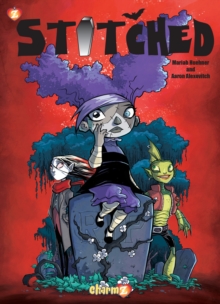 Stitched #1 : The First Day of the Rest of Her Life
Paperback / softback
Description
Crimson needs to find out who she is, why she woke up in a cemetery, andwhich (or is it witch?) boy she likes best. Crimson Volania Mulch has aproblem; she just woke up in a crypt and, besides her name, has no idea of who,where, or what she is.
Welcome to the Cemetery of Assumptions, a vast landscapeof stones, mausoleums, and secrets.
Home to monsters and mayhem, it may alsohold the answers to her unknown parentage.
Crimson is a resourcefulpatchwork girl and determined to find them.
Along the way, she meets themysterious Wisteria, who has a tendency to change and a witch named Parameterwhose spells tend to go awry. And two boys, Simon and Quinton, who make her feelsomething besides lost and confused.
She must battle ghosts, zombies, andmonsters in order to learn where she came from and who her real "mother" is.
Butwill she do it alone, or will she have help from her new friends and unexpectedcrushes?
Information
Format: Paperback / softback
Pages: 96 pages
Publisher: Papercutz
Publication Date: 13/06/2017
Category: Horror & ghost stories
ISBN: 9781629917740
Free Home Delivery
on all orders
Pick up orders
from local bookshops