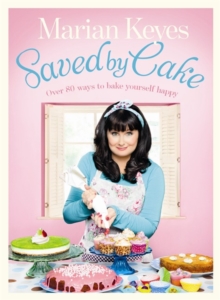 Description
Learn to bake with Britain's favourite women's fiction author Marian Keyes, in her startlingly honest cook-book Saved by CakeSaved by Cake gives an extremely honest account of Marian Keyes' recent battle with depression, and how baking has helped her.
A complete novice in the kitchen, Marian decided to bake a cake for a friend and that was it - she realized that baking was what she needed to do in order to get her through each day. And so she baked, and she wrote her recipes down, and little by little the depression started to lift, along with her sponges...
With chapters on cupcakes, cheesecakes, meringues and macaroons, chocolate cakes, fruit cakes and favourite classics, Marian's recipes are aimed firmly at beginner bakers, offering hints and tips to help along the way.
Never patronizing, always honest and witty, accessible and full of fun, the bakes and cakes that Marian serves up in this cookbook will put a smile on your face and make you happy.
From her Consistently Reliable Cupcakes and Very Chocolately Macaroons, to the ease of her Fridge-set Honeycomb Cheesecake, you will want to have a go at making all of Marian's recipes.
The shoe and handbag biscuits particularly. Very covetable. Very Marian.'Medically speaking, there is no such thing as a nervous breakdown.
Which is very annoying to discover when you're right in the middle of one.
Whatever was going on with me, I had to wait it out.
I had to find ways of passing the time until I was restored to myself again.
So I baked a cake - a chocolate cheesecake, as it happens. And I enjoyed making it so much that I baked another. And another' Marian Keyes
Information
Format: Hardback
Pages: 232 pages, Full colour integrated photography
Publisher: Penguin Books Ltd
Publication Date: 15/02/2012
Category: Cakes, baking, icing & sugarcraft
ISBN: 9780718158897
Free Home Delivery
on all orders
Pick up orders
from local bookshops
Reviews
Showing 1 - 3 of 3 reviews.
Review by deemc
16/06/2015
This book works on a number of levels: as a baking book, it contains a variety of recipes suitable for the novice baker right through to the more experienced and adventurous cook. As a 'book' book it's hilarious! The recipes are peppered with anecdotes, hints and tips, written in Marian's inimitable style. I would not go so far as to recommend 'saved by cake' as a self-help manual for someone suffering from depression (as Keyes herself was and which prompted her to write the book) but I would absolutely give it to a friend who was feeling down, or reach for it myself on one of the darker days, as either the yummy recipes (which work by the way) will give me something practical to set my mind to, or the humorous anecdotes will give me something to smile about. A great feel-good read with the added bonus of a fab recipe collection :)
Review by wyvernfriend
16/06/2015
Saved by Cake is how Marian Keyes pulled herself from depression to somewhere a bit better. She's the first to admit that she isn't "cured" per say but in a better place than she was before she discovered that baking was a way of concentrating her mind and making her focus on what was in front of her and it helped. She also says that before baking she had tried other things that didn't work, but that this was what worked for her and that that's what you should do for yourself if you find yourself in her shoes, find something, drugs, therapy or activity that works for you and use it.The recipes are very readable, yes, readable, the intros are often hilarious and the way she has of writing the recipes is more like a friend telling you how to cook or bake something rather than a dry clinical average recipe. I loved them. Even the heavily chocolate one (yes, I'm not all that into chocolate, yes I'm female)I haven't tried any of the recipes, yet, but the book is heartwarming.Gluten Free recipes in the book that caught my eye (because this is really important to me!) Apart from the fair few in pastry cases that could be converted by using Gluten Free pastry or the chapter on Cheesecakes that could be easily converted using gluten-free biscuits instead of standard biscuits there is:Fridge-Set Honeycomb Cheesecake p91 (using home made honeycomb or Crunchies for the base)Green Tea Panna Cotta p104Blueberry Mess p140Shirely's Ginger and Pineapple Pavlova p143Zagina Reform Torta p144Basic Cranberry Macaroons p151Tiramisu Macaroons p155(actually pretty much the whole chapter on Meringues and Macaroons is littered with Gluten free goodies)Sean's Rosemary Truffles p213And if you do want to bake for a gluten-avoiding friend (Coeliac or gluten sensitive like me) please be careful of flour and crumbs of flour in baking trays and pans.And her twitter feed is hilarious!
Review by pengvini
16/06/2015
If you've got this book in your hands then I'd like to make this recommendation: Go to Marian's website and watch some of the amusing baking demonstrations. That way you'll have Marian's delightful irish voice in you head when you follow her witty baking instructions. <br/><br/>Apart from the humour I'd also recommend this book for its wide variety of recipes. It is not an all encompassing baking manual, although it does include lots of useful tips and instructions aimed at beginners. If you haven't been baking recently, you are likely to feel inspired and might want to rush out to invest in cooky cutters and edible glitter.<br/><br/>What a wonderful book this is. From a frightening bout of depression came something so beautiful and lovely. In the introduction Marian gives a chilling description of her dark period during which she stumbled upon baking as a means of distracting herself. It is hard to imagine that someone who seems to have such a zest for life could be suffering from depression. May her personal account bring consolation and hope to many others in the same boat.<br/><br/>I would give this book 5 stars but feel that I cannot do that until I've actually tried out some of the deliciously looking recipes. However I feel qualified to review it because I somehow managed to read this book cover to cover! Yes, I didn't only look at the delicious pictures, I even read through many of the recipes. (I meant to buy this as a gift to someone else, but now I'll have to go and buy another one.)