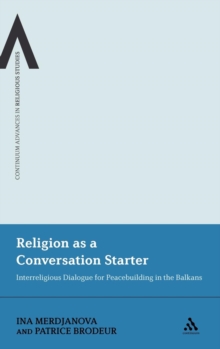 Religion as a Conversation Starter : Interreligious Dialogue for Peacebuilding in the Balkans
Hardback
Description
Religion as a Conversation Starter is the first comprehensive analysis of the present state of interreligious dialogue for peacebuilding in Southeast Europe.
It is based on empirically grounded and policy-oriented research, carried out throughout the Balkans.
The study maps recent interreligious relations in this part of the world, throwing light on both the achievements and challenges of interreligious dialogue for peacebuilding in particular, and offering a set of up-to-date policy recommendations, whilst contributing to a greater understanding of the local particularities and how they relate to broader trends transnationally.
Interreligious dialogue has been a central tool in the continuous international efforts to promote peaceful living together in multicultural and multireligious societies.
This fascinating monograph explores the place of interreligious dialogue as a primary method in conflict resolution and peacebuilding, and will be of interest to scholars of religious and peace studies, as well as those who advocate and carry out organized interventions in religion-related spheres.
Information
Format: Hardback
Pages: 200 pages, 1, black & white illustrations
Publisher: Continuum Publishing Corporation
Publication Date: 19/11/2009
Category: Interfaith relations
ISBN: 9780826439024