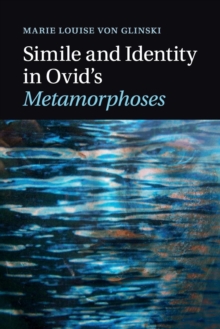 Simile and Identity in Ovid's Metamorphoses
Paperback / softback
Description
Nulli sua forma manebat. The world of Ovid's Metamorphoses is marked by constant flux in which nothing keeps its original form.
This book argues that Ovid uses the epic simile to capture states of unresolved identity - in the transition between human, animal and divine identity, as well as in the poem's textual ambivalence between genres and the negotiation of fiction and reality.
In conjuring up a likeness, the mental image of the simile enters a dialectic of appearances in a visually complex and treacherous universe. Original and subtle close readings of episodes in the poem, from Narcissus to Adonis, from Diana's blush to the freeform dreams in the House of Sleep, trace the simile's potential for exploiting indeterminacy and immateriality.
In its protean permutations the simile touches on the most profound issues of the poem - the nature of humanity and divinity and the essence of poetic creation.
Information
Format: Paperback / softback
Pages: 180 pages
Publisher: Cambridge University Press
Publication Date: 29/09/2016
ISBN: 9781316623596