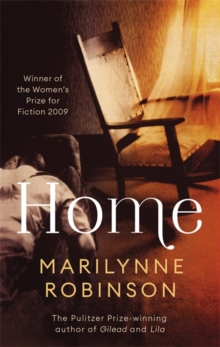 Description
Hundreds of thousands of readers were enthralled and delighted by the luminous, tender voice of John Ames in Gilead, Marilynne Robinson's Pulitzer Prize-winning novel.Now comes HOME, a deeply affecting novel that takes place in the same period and same Iowa town of Gilead.
This is Jack's story. Jack - prodigal son of the Boughton family, godson and namesake of John Ames, gone twenty years - has come home looking for refuge and to try to make peace with a past littered with trouble and pain.
A bad boy from childhood, an alcoholic who cannot hold down a job, Jack is perpetually at odds with his surroundings and with his traditionalist father, though he remains Boughton's most beloved child.
His sister Glory has also returned to Gilead, fleeing her own mistakes, to care for their dying father.
Brilliant, loveable, wayward, Jack forges an intense new bond with Glory and engages painfully with his father and his father's old friend John Ames.
Information
Format: Paperback
Pages: 352 pages
Publisher: Little, Brown Book Group
Publication Date: 16/04/2009
ISBN: 9781844085507
Free Home Delivery
on all orders
Pick up orders
from local bookshops
Reviews
Showing 1 - 4 of 4 reviews.
Review by sharonlflynn
16/06/2015
I finished reading Home about a month ago, but waited some time to write anything about it, in order to let the themes and the story settle. It is a companion novel to Gilead, which I read about a year ago. Unlike other reviewers, I didn't re-read Gilead (which I loved), so I had some memories of the parallel story, but the details are hazy.Home details the final weeks of the life of the Reverand Boughton. His youngest daughter, Glory, has returned to the family home after a failed relationship in which she was very much the victim. Once an independent and ambitious young woman, now she is in her late 30s with no hope but to remain a spinster for the rest of her days in the crypt that is her family home.However, the story is not so much about Glory, but about her bother, Jack. Referred to as the prodigal son, in fact he is very far from this figure. The prodigal returned home contrite and willing to make amends, to change his wicked lifestyle. He is welcomed by his father, who rejoices to have his lost son back at home. His brother is jealous of the celebrations, but the parable is essentially one of unconditional love.Jack's return to the family home, on the other hand, results in unease rather than joy. His father is certainly delighted to have his son back but knows that the situation is only temporary. Jack, while possible full of remorse, is not contrite. He is unable to accept forgiveness and does not believe that it is possible to change, however much he might want to.The result is a very sad book with an inevitable ending. Beautifully written, it provokes a sense of intense unease.
Review by hazelk
16/06/2015
I'm usually a patient reader but I have found this novel a slog.Last week I read Scott Fitzgerald's 'The Great Gatsb'y, written in the 1920s but it still feels modern. This novel of 2008 would fit seamlessly into the 1910s let alone the 1920s. The writing style is so careful, so modulated, so worked, that the whole thing felt lifeless. Perhaps the subject matter had this effect. I don't know.
Review by NeilDalley
16/06/2015
What a superb book. So full of emotion and deep thought. The characters were all fascinating and the theology engaging.
Review by bodachliath
16/06/2015
In this sequel to the equally moving but very different Gilead, Robinson tells the heartbreaking tale of a young drifter forced to return to the uncompromisingly religious and intolerant small town he escaped.