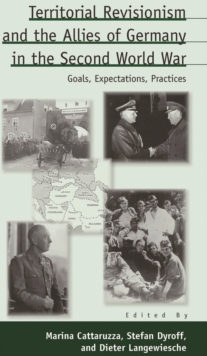 Territorial Revisionism and the Allies of Germany in the Second World War : Goals, Expectations, Practices
Hardback
Description
A few years after the Nazis came to power in Germany, an alliance of states and nationalistic movements formed, revolving around the German axis.
That alliance, the states involved, and the interplay between their territorial aims and those of Germany during the interwar period and World War II are at the core of this volume.
This "territorial revisionism" came to include all manner of politics and military measures that attempted to change existing borders.
Taking into account not just interethnic relations but also the motivations of states and nationalizing ethnocratic ruling elites, this volume reconceptualizes the history of East Central Europe during World War II.
In so doing, it presents a clearer understanding of some of the central topics in the history of the War itself and offers an alternative to standard German accounts of the period 1933-1945 and East European nation-states' histories.
Marina Cattaruzza is Professor of Modern and Contemporary History at the University of Bern.
Stefan Dyroff has been Lecturer and Research Fellow at the Department of Contemporary History at the University of Bern since 2006. Dieter Langewiesche was Professor of Modern History at the University of Hamburg from 1978 to 1985 and of medieval and modern history at the University of Tubingen from 1985 to 2008.
Information
Format: Hardback
Pages: 224 pages
Publisher: Berghahn Books
Publication Date: 17/01/2013
Category: European history
ISBN: 9780857457387
Also in the Austrian and Habsburg Studies series | View all