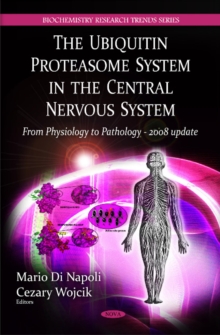 Ubiquitin Proteasome System in the Central Nervous System : From Physiology to Pathology - 2008 Update
Hardback
Description
The ubiquitin-proteasome field has experienced a breathtaking development from obscure origins in the late 1970s and early 1980s, through a maturing but a well circumscribed field in the 1990s, into a huge, and ever growing interdisciplinary area in the 2000s.
Nearly 7% of all genes encoded by the human genome comprise elements of the ubiquitin-proteasome system (UPS), making it the most complex of all biochemical pathways.
This complexity depends mostly on its hierarchical organisation, where the 20S proteasome is the common machinery mediating total or partial degradation of practically any protein in our body.
Proteolysis via the UPS is a rapid and effective method of degrading a specific protein at a specific time, and in many cases a protein is degraded only in response to a particular cellular signal or event.
Controlling where and when a protein is degraded can enhance the specificity and timing of proteolysis, generate asymmetry and maintain sub-compartments.
The 24 articles of this updated collection describe the authors' research, from medical and academic research facilities world-wide, on various aspects of the UPS in nervous system.
The articles discuss research of the UPS in connection with many important aspects of nervous system development, physiology and diseases, ranging from basic sciences to more specific topics useful for both basic neuroscientists and active clinical neurologists in an attempt to present in one place a cross-field, translational reference in a format accessible to a practising neurologist as well as to a neuroscientist.
Due to the inherent nature of the topic, the book has crossed over discipline barriers, engaging an amazing international team of specialists from disparate fields to conduct the readers across the principal avenues of the UPS physiology and pathology in the nervous system.
Information
Format: Hardback
Pages: 552 pages, colour & b/w photos & tables
Publisher: Nova Science Publishers Inc
Publication Date: 21/05/2010
Category: Neurology & clinical neurophysiology
ISBN: 9781607416944
Free Home Delivery
on all orders
Pick up orders
from local bookshops