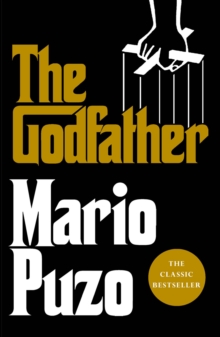 Description
Tyrant, blackmailer, racketeer, murderer - his influence reaches every level of American society.
Meet Don Corleone, a friendly man, a just man, areasonable man.
The deadliest lord of the Cosa Nostra. The Godfather. A modern masterpiece,The Godfather is a searing portrayal of the 1940s criminal underworld.
It is also the intimate story of the Corleone family, at once drawn together and ripped apart by its unique position at the core of the American Mafia.
Still shocking forty years after it was first published, this compelling tale of blackmail, murder and family values is a true classic.
Information
Format: Paperback
Pages: 608 pages, none
Publisher: Cornerstone
Publication Date: 01/06/2009
Category: Crime & mystery
ISBN: 9780099528128
Other Formats
Paperback from £8.05
EPUB from £3.99
Mixed media product from £10.14
Free Home Delivery
on all orders
Pick up orders
from local bookshops
Reviews
Showing 1 - 3 of 3 reviews.
Review by joririchardson
16/06/2015
Even though <i>The Godfather</i> isn't my usual type of reading, I couldn't avoid this cult-classic any longer. It is one of the books that I hear the most cultural references to (though these could be instead ascribed to the movies). I haven't seen the theatrical blockbusters, as I always try to read the books first.The story opens in 1946, just after World War II, in New York City. Don Vito Corleone is holding a wedding for his daughter, and the guest list and interactions of various characters allows us the first glimpse into the powerful world of the mafia. After the Don is shot by the minions of a rival family, the Corleone family's world is thrown out of balance amidst betrayals, assassinations, and shifts in power, as well as the beginning of a war between the five New York mafia families.For the first quarter of this book, I was really enjoying the story. It was, as I had expected, action packed, but I was also fascinated by the details of the Corleone's life: the positions that someone may hold and the various paths to promotion, the Don's accumulation of favors that he distributes in case the need may one day arise to collect on them, and the vocabulary of the story, "button man" for a sort of esteemed personal bodyguard, "going to the mattresses," and most importantly, <i>omerta</i>, the almost sacred Sicilian code of silence.After the conclusion of Part One, I gradually lost interest in the story. Michael's exile in Sicily had removed the story from the delicately violent world of the mafia, but replaced it with little but casual strolls through town and a silly fixation he develops with a female character who is described in terms closer to a deer than a human. The book seemed to wander about, in need of plot fillers until the final plan for the end (which I had seen coming as soon as Michael was first introduced). A portion of the story goes back in time and chronicles the story of Vito Corleone before he was a powerful mafia Don, which seemed forced and drawn out.Another few chapters are devoted to a very minor character with no real connection to the plot. The distinguishing aspect of her characterization is the fact that she has an abnormally large vagina. There is nothing else to her except for this - nothing. We spend chapter upon chapter first listening to her tell us all about how she misses her ex (or rather, misses being in bed with him), due to his freakishly enormous member. Yeah, really. We then get to hear about how she has found another boyfriend that she really likes (and wants to sleep with), but she won't have sex with him due to her secret "problem," causing him to believe that she isn't serious about him. Later, they do have sex, and he suggests and plans, without asking her, for her to have reconstructive surgery on her vagina. Well, the man must at least be related to the mafia, in order to tie this outlandish plot detour back into the story, right? Maybe one of the Don's three sons, or a close confidante? No. He's just a random guy. I kept waiting for something relevant to involve this vagina-story with the rest of the book, but nothing appeared.Feminists may want to steer clear of this book or go in prepared to overlook pretty much every female character. The mafia live in a world controlled and dominated by men, and none of the women are treated very well by Puzo. Even the stronger women of the story, such as Kay, come off as abrasively helpless. The Don's wife, whom I kept thinking probably had a story to tell, has resigned herself to simply praying for her husband, as she knows that she cannot influence or change her family's life. And, of course, there are plenty of objectified women whose relations with the male characters are purely sexual.When the three Corleone sons are introduced, the fact that Sonny is gloriously well endowed takes up far more space than all the other characterizing facts put together. The second son's way with the ladies seems to be all that is of note about him, and Puzo makes sure to tell us about Michael's sensual good looks and sexual prowess.I severely disliked the character of Johnny, a movie-star and former singer who appears to be inspired by Frank Sinatra. He is absolutely pathetic, and I especially disliked all of the descriptions of his sexual appetites, which seemed to be for young, virginal starlets. In one wild scene at the Academy Awards, all of the guests clamor for a live "coupling" between the male "Best Actor" and the female "Best Actress," which is actually about to take place on stage until the drunk best man is carried out by a friend. Really? This seems believable?I was disappointed to enjoy this book less and less as it went, as I did find the first part thrillingly fun. Perhaps the movies will be an improvement.
Review by Eyejaybee
16/06/2015
Quite hypnotic! This novel paints an intriguing picture of the internecine struggles within the gangster community in New York in the late 1940s. It starts with various supplicants visiting Don Vito Corleone, The Godfather, on the day of his daughter's wedding to request a favour. On such a day Corleone is unable to decline.Vito Corleone is a surprisingly sympathetic character given that he leads one of the big five gangster families that between them control most of the crime bedevilling New York. When the thin patina of peace shatters Corleone is shot and severely wounded, and then his eldest son is ambushed and killed. This proves to be the catalyst for his youngest son, Michael, hitherto remote from the family business, to step in and "make his bones", claiming his first murder. From that moment it is clear that he will succeed his father as The Don.
Review by Daftboy1
16/06/2015
Very good book this. I havent seen the films yet I have heard they are really worth watching. Well I can confirm this book didnt disappoint. Very good story loads of characters but not confusing at all. Its really 2 stories the first of Don Corleone the Boss and then later the story of his son Michael who takes over the family business. Best book I have read for a while.