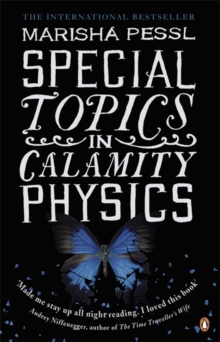 Special Topics in Calamity Physics
Paperback
Description
Marisha Pessl's Special Topics in Calamity Physics is an unforgettable debut novel that combines the storytelling gifts of Donna Tartt and the suspense of Alfred Hitchcock: a darkly hilarious coming-of-age tale and a richly plotted suspense story, told with dazzling intelligence and wit.'I wrote this account one year after I'd found Hannah Dead.I thought I'd managed to erase all traces of that night within myself.But I was wrong.Every night when I tried to sleep, I'd close my eyes and see her again, exactly as I found her, hanging from a pine tree by an orange electrical cord, her neck twisted like a tulip stem, her eyes seeing nothing. Or else that was the problem. They'd seen everything.'Special Topics in Calamity Physics is a mesmerizing debut. As teenager Blue van Meer tells her story we are hurled into a dizzying world of murder and butterflies, womanizing and wandering, American McCulture, The Western Canon, political radicalism and juvenile crushisms. Structured around a syllabus for a Great Works of Literature class (with hand-drawn Visual Aids), Blue's wickedly funny yet poignant tale reveals how the imagination finds meaning in the most bewildering times, the ways people of all ages strive for connection, and how the darkest of secrets can set us free.'Beneath the foam of this exuberant debut is a dark, strong drink' Jonathan Franzen, author of, The Corrections 'Any [Donna] Tartt fan disappointed that her second novel had little in common with her debut should rush out and buy this book immediately...
It's a brilliant debut, guaranteed to join the ranks of The Secret History and The Virgin Suicides as one of those rare books to become a cult hit and instant classic' Sunday Telegraph 'One of the most impressive debut novels I have ever read ...
It stops you doing anything apart from reading it ' Independent on Sunday 'Special Topics in Calamity Physics made me stay up all night reading; in the morning it seemed like one of those parties where everyone is too cool for you but you desperately want to know them anyway . . . I loved this book' Audrey Niffenegger, author of The Time Traveler's Wife Marisha Pessl was born in 1977 and lives in New York.
This is her first novel.
Information
Format: Paperback
Pages: 528 pages, 10 Illustrations, unspecified
Publisher: Penguin Books Ltd
Publication Date: 01/01/2007
ISBN: 9780141024325
Free Home Delivery
on all orders
Pick up orders
from local bookshops
Reviews
Showing 1 - 4 of 4 reviews.
Review by bibliobeck
16/06/2015
I found this book interesting and irritating in equal parts. The citations and references littering every page had driven me mad by page 500 and I found myself mostly skipping them. As the book wore on maybe the author felt the same as I had the impression she was (thankfully) skipping a few too. It's a shame because there were some darkly humerous citations in there, but the phrase 'less is more' springs to mind. Overall a very readable mystery story which I wanted to keep reading - but what disagreeable characters; especially Blue's snobbish, selfish father!
Review by kitkat79
16/06/2015
This book has had quite mixed reviews, but I had fun with it.The writing style is somewhat pretentious, but so is our protagonist. I actually enjoyed the author's ability to stay true to her character's voice, even when it was slightly annoying.I would have loved to see a bibliography at the end of the book, to keep with the concept of the regular references to other books, real and imaginary. Unlike many reviewers, I liked the references, particularly the slightly absurd ones.Overall, I enjoyed reading this, and will be lending it out to friends and family.
Review by heidijane
16/06/2015
There are better coming of age books. There are better mystery books. There are better philosophical type books. This book tried to be all three and more.Blue Van Meer joins a school in North Carolina for her senior year, and becomes involved with a group of friends (known as the Bluebloods) and a teacher, Hannah Schneider. When they go on an illfated camping trip, everything changes, and her whole life turns upside down.The book is written from Blue's point of view, and is smattered with references and asides to real and made-up books, which does get a bit tedious. The story itself is quite exciting and interesting, particularly towards the end, although many of the characters are quite flat and two-dimensional. There are better books.
Review by thebookmagpie
02/03/2016
INITIAL REACTION: oh my god. OH MY GOD.<br/><br/>***<br/><br/>This book. This book may be my book of 2015. It is everything. I loved the crap out of it. I loved the voice, I loved the story, I loved the characters, I ruined dinner because of this book (protip: don't try to read and salt the dinner at the same time. Turns out too much salt tastes absolutely dreadful). I did not see the whole unfolding plot coming but I was so excited with each thing that happened. Yeah, it is super-referential, and I'm pretty sure I understood fewer than half of those references, but I didn't even care. It was a contstruct that I could get behind, something that I could really immerse myself in and say "okay, so this is how it's going to be. Let's run with it!" <br/><br/>I want to buy this book for everyone I've ever met. I can't explain it, there was just this magic about it. I really, really want to read Night Film now. <br/><br/><br/><br/><br/><br/><br/>Eeeeeep.