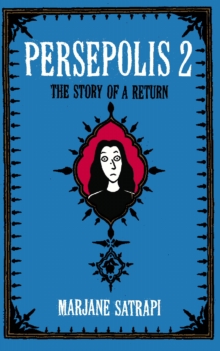 Description
Here is the fascinating and equally unforgettable sequel to Persepolis, Marjane Satrapi's memoir-in-comic strips of growing up in Iran during the Islamic Revolution.
Persepolis ended on a cliffhanger in 1984, just as fourteen-year-old Marjane was leaving behind her home in Tehran, escaping fundamentalism and the war with Iraq to begin a new life in the West.
Here we follow our young, intrepid heroine through the next eight years of her life: an eye-opening and sometimes lonely four years of high school in Vienna, followed by a supremely educational and heartwrenching four years back home in Iran.
Just as funny and heartbreaking as its predecessor - with perhaps an even greater sense of the ridiculous inspired by life in a fundamentalist state - Persepolis 2 is also as clear-eyed and searing in its condemnation of fundamentalism and its cost to the human spirit.
In its depiction of the universal trials of adolescent life and growing into adulthood - here compounded by being an outsider both abroad and at home, and by living in a state where you have no right to show your hair, wear make-up, run in public, date, or question authority - it's raw, honest, and incredibly illuminating.
Information
Format: Hardback
Pages: 192 pages
Publisher: Random House Children's Publishers UK
Publication Date: 26/08/2004
Category: Autobiography: general
ISBN: 9780224074407
Free Home Delivery
on all orders
Pick up orders
from local bookshops
Reviews
Showing 1 - 2 of 2 reviews.
Review by Ayling
16/06/2015
I enjoyed this, but it isn't as good as the first book.Persepolis 2 starts directly after the first book and tells the story of how Marjane growing up as a teenager and a young woman, trying to find where her identity lay.She's an incredibly interesting sounding person, although I wonder what she's really like, outside of black and white pictures of her graphic novel?The first one was more humorous and the second more interesting. It is very interesting to see what lies beneath the veil, the hidden rebellion and individuals that perhaps we are not aware of in the western world.A worthwhile read but it didn't really grip me - but that might have been my current mood as I read it in between a lot of other books. Well written/drawn and a very personal, honest account of her life.
Review by OccassionalRead
16/06/2015
Persepolis 2 begins where 1 left off. Marjane, now a teenager, leaves Iran to escape the perils of the revolution and attend school in Austria. Teenage years are difficult for many but Marjane's problems are compounded by the alienation of feeling neither European nor fully Iranian anymore. She befriends a bunch of punks and misfits, gets expelled for insolance, finds and loses love, experiments with drugs, and completely loses herself, with dangerous results, before finally returning to Iran to find her bearings. She remains there through her late teens and early twenties where the book covers her college years in art school and her second very serious relationship. Persepolis 2 remains delightfully illustrated and a supremely told autobiography of a bright, rebellious, and talented woman facing society's prejudices and constraints. You take leave of the book waiting eagerly for its sequel and what adventures (and misadventures) await Marjane as she enters her late twenties and thirties.