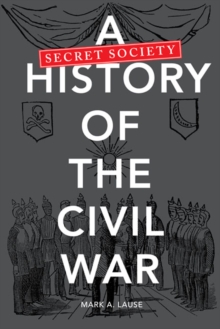 A Secret Society History of the Civil War
Hardback
Description
This unique history of the Civil War considers the impact of nineteenth-century American secret societies on the path to as well as the course of the war.
Beginning with the European secret societies that laid the groundwork for freemasonry in the United States, Mark A.
Lause analyzes how the Old World's traditions influenced various underground groups and movements in America, particularly George Lippard's Brotherhood of the Union, an American attempt to replicate the political secret societies that influenced the European Revolutions of 1848.
Lause traces the Brotherhood's various manifestations, including the Knights of the Golden Circle (out of which developed the Ku Klux Klan), and the Confederate secret groups through which John Wilkes Booth and others attempted to undermine the Union.
This book shows how, in the years leading up to the Civil War, these clandestine organizations exacerbated existing sectional tensions and may have played a part in key events such as John Brown's raid on Harpers Ferry, Lincoln's election, and the Southern secession process of 1860-1861.
Information
Format: Hardback
Pages: 232 pages
Publisher: University of Illinois Press
Publication Date: 29/11/2011
Category: History of the Americas
ISBN: 9780252036552
Free Home Delivery
on all orders
Pick up orders
from local bookshops