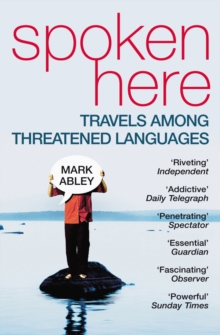 Description
Half the world's languages are threatened with extinction over the next century, as English and the rest of the world's top twenty languages drive all before them.
What ways of looking at the world will die along with them, what cultural riches, what experiences, histories and memories? And how does it feel to be one of the last remaining speakers of a language that is on its way to extinction?
What chance is there of saving any of these languages?
Is it feasible in the long term or even worthwhile? Mark Abley's journeys among the speakers of languages at the brink takes him to aboriginal Australia (where he meets the last surviving fluent male speaker of Mati Ke, who cannot speak to the only other fluent speaker, as she is his sister and in their culture it is forbidden to speak to siblings once one has reached puberty) and to American Indian reservations, as well as to places where the languages are fighting back - Wales, the Faeroe islands, the Isle of Man - whilst also charting the triumphant return of Hebrew.
Free Home Delivery
on all orders
Pick up orders
from local bookshops
Reviews
Showing 1 - 1 of 1 reviews.
Review by sloopjonb
16/06/2015
Because I had an English education, I don't speak any language other than English, but I am fascinated by languages, and eager to learn about them if not actually to learn them. This book is an excellent tour d'horizon of languages whose existence is threatened (mainly by mine). It has much to say about the structure of languages, and why diversity is important, and is written in an accessible, readable manner. Recommended to anyone with an interest in language and languages.