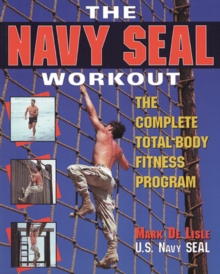 The Navy Seal Workout
Paperback / softback
Description
"Many people believe the only way to get in shape is by putting a lot of money into trendy fitness centers, or spending hard-earned cash on a variety of workout videotapes.
In the end, these methods seldom provide the results we're all looking for.
But don't get me wrong--I am not demeaning gyms or workout tapes; in fact, I still enjoy the benefits of a gym to keep fit.
Weight-lifting rooms and other facilities can be extremely beneficial.
However, to obtain and maintain supreme cardiovascular fitness and a rock-hard body, I must continually use the training regimen I learned as a member of the Navy SEALs." -- from The Navy SEAL Workout As the world's most elite combat unit, the Navy SEALs have long been known for their tremendous physical fitness and mental stamina.
Their training program has also carried somewhat of a mystique, as so few people actually enter and stay in the program.
Now Navy SEAL Mark De Lisle reveals the no-frills workout that has conditioned some of the best bodies around. From stretching through cooldown, including a variety of running and swimming workouts as well as tips on top-notch nutrition, The Navy SEAL Workout can improve any committed participant's cardiovascular fitness and overall shape and tone. "After 27 years as a Navy SEAL, I feel The Navy SEAL Workout program is the best one on the market, encompassing the physical training regimen required of a Naval Special Warfare Warrior.
The levels of intensity, from beginner to advanced, are so well laid out that both the biggest 'couch potato' and professional athelete can see improvement after a short period of time." -- Allan Starr, Command Masterchief, Naval Special Warfare Command Group One "In The Navy SEAL Workout, Mark De Lisle has developed a program soundly based in a state-of-the-art knowledge of exercise physiology and principles.
This book would be a valuable addition to the library of anyone who is interested in peak performance." -- W.K.
Prusaczyk, PhD, Exercise Physiologist, Navy Health and Research Center "It has been interesting to note the numerous SEAL-related materials that have come out in recent years.
As a former Marine, I salute you for your fine work with the SEALs and in promoting fitness to the masses." -- Harvey Newton, Director of Program Development National Strength and Conditioning Association Mark De Lisle became a U.S.
Navy SEAL at age 27. He lives in San Diego, California.
Information
Format: Paperback / softback
Pages: 160 pages
Publisher: Contemporary Books Inc
Publication Date: 01/06/1998
Category: Exercise & workout books
ISBN: 9780809229024
Also by Mark De Lisle