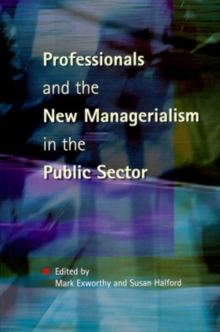 PROFESSIONALS & NEW MANAGERIALISM
Paperback / softback
Description
* What do 'managerialism' and 'professionalism' mean in today's public sector?* How do managers and professionals relate to each other?* What are the implications of changing notions of managerialism and professionalism? And of changing relations between managers and professionals?Throughout the 1980s and 1990s, there have been substantial changes to public sector organization and management.
A key aspect of this change has been the emergence of a 'new managerialism' which appears to have challenged many widely held and established principles and practices within the public sector.
Not least, this new managerialism has been seen to pose a significant threat across the public sector to the traditional dominance of professionalism and professionals. This book explores the relationship between professionals (and professionalism) and the new managerialism by using in-depth studies from education, social work and medicine.
It shows that, in practice, the relationship is characterized by a range of outcomes, from conflict to patterns of compromise and collaboration.
This challenges the often taken-for-granted assumptions about the distinctiveness, even oppositional nature, of managerialism and managers on the one hand and professionalism and professionals on the other, and sheds new light on long-standing debates.
Information
Format: Paperback / softback
Pages: 176 pages
Publisher: Open University Press
Publication Date: 01/12/1998
Category: Central government
ISBN: 9780335198191