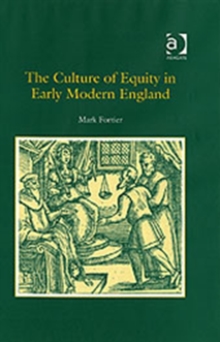 The Culture of Equity in Early Modern England
Hardback
Description
Elizabeth and James, Sidney, Spenser, and Shakespeare, Bacon and Ellesmere, Perkins and Laud, Milton and Hobbes-this begins a list of early modern luminaries who write on 'equity'.
In this study Mark Fortier addresses the concept of equity from early in the sixteenth century until 1660, drawing on the work of lawyers, jurists, politicians, kings and parliamentarians, theologians and divines, poets, dramatists, colonists and imperialists, radicals, royalists, and those who argue on gender issues.
He examines how writers in all these groups make use of the word equity and its attendant notions.
Equity, he argues, is a powerful concept in the period; he analyses how notions of equity play a prominent part in discourses that have or seek to have influence on major social conflicts and issues in early modern England. Fortier here maps the actual and extensive presence of equity in the intellectual life of early modern England.
In so doing, he reveals how equity itself acts as an umbrella term for a wide array of ideas, which defeats any attempt to limit narrowly the meaning of the term.
He argues instead that there is in early modern England a distinct and striking culture of equity characterized and strengthened by the diversity of its genealogy and its applications.
This culture manifests itself, inter alia, in the following major ways: as a basic component, grounded in the old and new testaments, of a model for Christian society; as the justification for a justice system over and above the common law; as an imperative for royal prerogative; as a free ranging subject for poetry and drama; as a nascent grounding for broadly cast social justice; as a rallying cry for revolution and individual rights and freedoms.
Working from an empirical account of the many meanings of equity over time, the author moves from a historical understanding of equity to a theorization of equity in its multiplicity. A profoundly literary study, this book also touches on matters of legal an
Other Formats
EPUB from £39.59
PDF from £39.59
Paperback / softback from £39.19