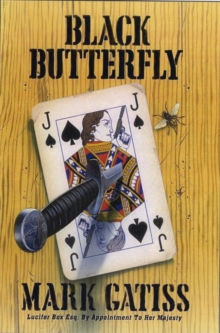 Black Butterfly : A Lucifer Box Novel
Paperback
Description
LUCIFER BOX. He's tall, he's dark and, like the shark, he looks for trouble. Or so he wishes. For, with Queen Elizabeth newly established on her throne, the now elderly secret agent is reaching the end of his scandalous career.
Despite his fast-approaching retirement, queer events leave Box unable to resist investigating one last case...
Why have pillars of the Establishment started dying in bizarrely reckless accidents?
Who are the deadly pay-masters of enigmatic assassin Kingdom Kum? And who or what is the mysterious Black Butterfly? From the seedy streets of Soho to the souks of Istanbul and the sun-drenched shores of Jamaica, Box must use his artistic licence to kill and eventually confront an enemy with its roots in his own notorious past.
Can Lucifer Box save the day before the dying of the light?
Information
Format: Paperback
Pages: 224 pages
Publisher: Simon & Schuster
Publication Date: 06/07/2009
Category: Historical fiction
ISBN: 9780743483810
Free Home Delivery
on all orders
Pick up orders
from local bookshops
Reviews
Showing 1 - 5 of 6 reviews.
Previous | Next
Review by kpc1972
16/06/2015
The last part of the Lucifer Box trilogy sees our hero aged and approaching retirement. Set in the 1950's Black Butterfly clearly draws influence from the early Bond novels. Gatiss writes with his usual flair and wit and there is much here to amuse, ranging from puns (the sinister organization A.C.R.O.N.Y.M.) to parody (the game of snooker Box plays against the scout leader was clearly inspired by Bond's round of golf with Goldfinger). I was never sure about the idea of having each part of the trilogy set at a different time of Box's life. In Black Butterfly Box is struggling to accept the fact that he can't get up to the full range of antics that he enjoyed in his youth, and as a reader I also regretted that Box here is clearly past his prime. The plot is a little too slap dash for its own good and the book feels that Gatiss wrote it on a bit a whim whilst preoccupied with weightier matters. Recommended only for fans of the first two.
Review by gbsallery
16/06/2015
Deliciously light and frothy; a morsel of irreverent Bond-spoofery. Also rather funny - I'm hoping that Gatiss gets round to writing many more of these.
Review by irkthepurist
16/06/2015
probably the weakest lucifer box novel, which is a damn shame because gatiss' prose is definitely better here than in the other two books. the problem is that the narrative is over far too quickly, there's not enough intrigue and kingdom kum isn't that well developed a foil (unlike whitley bey who i think shows tremendous promise). but it's still the most entertaining romp this side of m j trow's "lestrade" novels and i truly hope he does manage a fourth...
Review by isabelx
16/06/2015
'Now, Now, Delilah,' I said, sipping gingerly at the brandy. 'You're sounding petulant again.''Well,' she drawled, 'not like the bloody old days, is it? Stuck behind desk fiddling with paper-clips. I bet you'd give a year of your life just for a nice juicy assassination!'I shook my head. 'Time to bring down the curtain, Delilah.'But scarcely had the words left my lips when I felt a sudden heat on mt cheek, and my smeary glass exploded as a 9mm bullet slammed not the bar.For the third book in the series, we have skipped forwards to 1953 and the end of Lucifer's career. Lucifer has risen to be "Joshua Reynolds" (the pseudonym of the spy master in charge of the Royal Academy), but he is facing retirement and the Royal Academy is about to be absorbed into MI6. When an old friend dies in a car crash due to uncharacteristically risky driving, and a pillar of the establishment suddenly goes crazy, firing a gun in a crowded bar and stealing Lucifer's car, Lucifer follows a suspect to Istanbul and gets drawn into one last case.It was quite funny, but I don't think the plot hangs together as well as in the first two books.
Review by AHS-Wolfy
27/08/2015
Third and final book in the Lucifer Box trilogy. Lucifer's career is winding down and the Royal Academy, of which he's risen to be its head, is being subsumed by MI6. After attending a funeral for a friend and having his advances spurned by Miss Beveridge, his secretary, he's off to drown his sorrows at the club. Unfortunately his plan is thwarted when an old politician, Sir Vyvyan Hooplah, goes off the rails and starts shooting the place up and steals Lucifer's car for his getaway. Giving chase, Lucifer finally catches up to him when the recklessly attempted escape ends badly and with just enough time to hear his dying words: "Le papillon noir". This event seems to match other recent deaths of prominent people so when Lucifer spots the last person that Hooplah was talking to in the club who has also appeared at the crash site Lucifer decides to follow him. He trails him to the airport, onto a plane headed for Athens and then, despite a <i>friendly</i> warning to desist, a train to Istanbul. Can Lucifer decipher the meaning behind Hooplah's last words and how they relate to the other death's in time for his retirement party?I enjoyed the first book in the trilogy but felt somewhat let down by it's sequel so my expectations weren't too high going into this third outing for the spoofed up Bondian superspy. It probably lived up to what I was expecting and may have even exceeded them a little after getting past the long-winded set-up. The plot lies somewhere between the aforementioned Bond and an Austin Powers movie involving an enemy from Lucifer's past, a scouting Jamboree and a few exotic locations. While not laugh out loud funny there are a few smirks to be had along the way but if character names such as those already mentioned as well as Kingdom Kum, Whitley Bey and Melissa ffawthawte don't float your boat then it's probably best to steer clear.