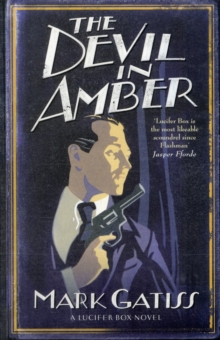 The Devil in Amber : A Lucifer Box Novel
Paperback
Description
Lucifer Box - the gorgeous butterfly of King Bertie's reign, portraitist, dandy and terribly good secret agent - is feeling his age.
Assigned to observe the activities of fascist leader Olympus Mons and his fanatical Amber Shirts in a snow-bound 1920s New York, Box finds himself framed for a vicious murder.
Using all his native cunning, Box escapes aboard a vessel bound for England armed only with a Broadway midget's suitcase and a string of unanswered questions.
What lies hidden in the bleak Norfolk convent of St Bede?
What is 'the lamb' that Olympus Mons searches for in his bid for world domination? And what has all this to do with a medieval prayer intended to summon the Devil himself?
From the glittering sophistication of Art Deco Manhattan to the eerie Norfolk coast and the snow-capped peaks of Switzerland The Devil in Amber takes us on a thrilling ride that pits Lucifer Box against the most lethal adversary of his career : the Prince of Darkness himself.
Information
Format: Paperback
Pages: 256 pages
Publisher: Simon & Schuster
Publication Date: 01/07/2007
Category: Historical fiction
ISBN: 9780743483803
Free Home Delivery
on all orders
Pick up orders
from local bookshops
Reviews
Showing 1 - 5 of 5 reviews.
Review by pauliharman
16/06/2015
Meh. There's only so far my Doctor Who completist demons will make me follow Gatiss's writing career. The Lucifer Box series is /okay/ I guess, but not sufficiently stand-out enough for me to turn to it in future in preference to the wealth of other reads I've got stacked up. Also, without wishing to appear homophobic, the constant guy-on-guy action just doesn't interest me and as such is a bit off-putting.
Review by riverwillow
16/06/2015
Another romp with Lucifer Box. This one isn't quite as opulent as the first book, but then it is set in much later, after the ravages of WWI. However, Box is no less naughty In this novel. Lots of fun.
Review by isabelx
16/06/2015
Twenty years after the events of "The Vesuvius Club", portrait painter and spy Lucifer Box is as witty, self-centred and vain as ever, but age is catching up with him. Changes in artistic fashions mean that his portraits are no longer in demand, younger spies are snapping at his heels and the Great War has taken its toll.In this book he gets involved in investigating Olympus Mons, the leader of F.A.U.S.T (the Fascist Anglo-United States Tribune), an American fascist organisation whose members are known as Amber Shirts. This leads him from New York to a Norfolk convent and on to a castle on the French/Swiss border, following Olympus Mons, who turns out to have a rather unorthodox plan for gaining power.
Review by AHS-Wolfy
16/06/2015
The second book in the <i>Lucifer Box</i> series. This one is set 20 years after The Vesuvius Club and gets off to a really slow start. I just about managed to hang in through the first 60 pages and then, thankfully, things improved. Lucifer is feeling his age (as well as the bellhop at the hotel he's staying at) and goes to great lengths to let his audience know about it. Once he quits complaining and gets on with his job he's back to his usual likeable self. This time around he's tasked with watching Olympus Mons, the leader of a fascist movement that's making waves on both sides of the Atlantic, and find out what his plans are. This simple assignment soon goes awry when he's betrayed from within his own organisation and left to take the fall for a murder he didn't commit. Managing to escape from custody, can Lucifer follow the clues to stop Mons from literally raising Hell and also get revenge on his betrayer at the same time?Once past the slow beginning then the rest of the book flies by and that's why I'll probably continue with book 3 at some point (as long as it pops up cheap somewhere) but I'm in no hurry to rush out and buy it immediately. Just on a precautionary note, this book does contain scenes of a sexual (MM &amp; MF) and violent nature so be warned if that's not your cup of tea.
I wish I wish I wish I had read this before <I>The Vesuvius Club</I>. I was completely prepared to continue disliking Lucifer Box and putting up with the novel for the sake of having spent money on the box set, but to my surprise, just a few pages in and I was enjoying it much more than the previous novel. <br/><br/>I found the level of tongue-in-cheek humour just right. Box is dry and ridiculous, but not as smug and annoying as I found him in <I>The Vesuvius Club</I>. Having it set in America and giving it that noirish twist also made it very enjoyable, despite the fact that I'm not a huge fan of noir.<br/><br/>And then there was the tail end of the book which threw up all kinds of unexpected surprises. I don't think the mish mash of genres would appeal to everyone, but I really enjoyed what Gatiss did here, mixing up mystery and the macabre with a slice of humour and just a drop of barely noticable smut. <br/><br/>I wish there was more of this Lucifer Box to read about. I may just read the last installment in the series.