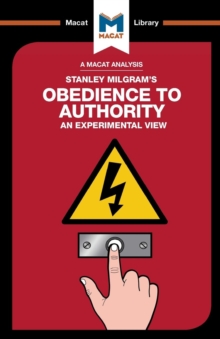 An Analysis of Stanley Milgram's Obedience to Authority : An Experimental View
Paperback / softback
Description
Stanley Milgram is one of the most influential and widely-cited social psychologists of the twentieth century.
Recognized as perhaps the most creative figure in his field, he is famous for crafting social-psychological experiments with an almost artistic sense of creative imagination - casting new light on social phenomena in the process.
His 1974 study Obedience to Authority exemplifies creative thinking at its most potent, and controversial.
Interested in the degree to which an "authority figure" could encourage people to commit acts against their sense of right and wrong, Milgram tricked volunteers for a "learning experiment" into believing that they were inflicting painful electric shocks on a person in another room.
Able to hear convincing sounds of pain and pleas to stop, the volunteers were told by an authority figure - the "scientist" - that they should continue regardless.
Contrary to his own predictions, Milgram discovered that, depending on the exact set up, as many as 65% of people would continue right up to the point of "killing" the victim. The experiment showed, he believed, that ordinary people can, and will, do terrible things under the right circumstances, simply through obedience.
As infamous and controversial as it was creatively inspired, the "Milgram experiment" shows just how radically creative thinking can shake our most fundamental assumptions.
Information
Format: Paperback / softback
Pages: 98 pages
Publisher: Macat International Limited
Publication Date: 04/07/2017
ISBN: 9781912127245
Other Formats
PDF from £23.76
EPUB from £23.76
Hardback from £19.45
Also by Mark Gridley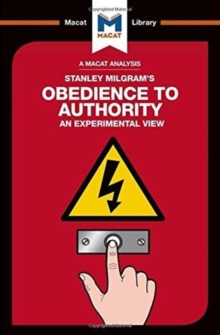 Also in the The Macat Library series | View all