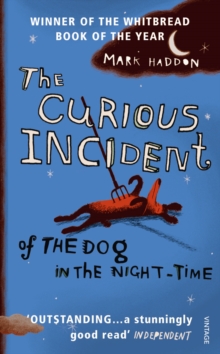 The Curious Incident of the Dog in the Night-time
Paperback
Description
Winner of the Whitbread Book of the Year 'Outstanding...a stunningly good read' Observer 'Mark Haddon's portrayal of an emotionally dissociated mind is a superb achievement...Wise and bleakly funny' Ian McEwan The Curious Incident of the Dog in the Night-Time is a murder mystery novel like no other.
The detective, and narrator, is Christopher Boone. Christopher is fifteen and has Asperger's Syndrome. He knows a very great deal about maths and very little about human beings.
He loves lists, patterns and the truth. He hates the colours yellow and brown and being touched.
He has never gone further than the end of the road on his own, but when he finds a neighbour's dog murdered he sets out on a terrifying journey which will turn his whole world upside down.
Information
Format: Paperback
Pages: 288 pages
Publisher: Vintage Publishing
Publication Date: 01/04/2004
ISBN: 9780099450252
Other Formats
Paperback from £6.09
CD-Audio from £15.75
EPUB from £4.99
PDF from £10.44
Free Home Delivery
on all orders
Pick up orders
from local bookshops
Reviews
Showing 1 - 5 of 48 reviews.
Previous | Next
Review by MeredithYvonne
16/06/2015
What a great read. This book is written from the point of view of it's lead character who is a 14 year old boy with autism. The story breaks your heart while making you laugh at the same time. The innocence of the book is matched nicely with the complex story it narrates.
Review by c1cc1a74
16/06/2015
I do like the book and I think the writing was excellent and suggestive however I had to struggle reading it because I found the subject really depressing and upsetting. I had strong feeling for the parents and I admit I wouldn't know how to behave in a similar situation.
Review by dylanwolf
16/06/2015
No, I didn't like this. I'll admit to a little prejudice just because of its unaccountable popularity. Are people reading it and liking it because the sentences are easy to read? They are easy to read because the narrator is autistic but how authentic is the author being in delivering this? I have had some first hand experience of autism and I don't particularly recognise the voice but then again autism is a broad spectrum. It doesn't feel to me that Mark Haddon has pulled off any kind of remarkable feat here. Is the apparent lack of depth a real lack of depth? It looks like blancmange and tastes like blancmange. Even the twee title annoys me.
Review by Jebbie74
16/06/2015
Having dealt with kids who were autistic as I was growing up, I found Mark's book to be extremely real. It was also very hard to put down.I have heard many mixed reviews on his book, and know when I suggest it to people I let them know that they will either love it or hate it. I loved it.
Review by reading_fox
16/06/2015
A fun read in an odd kind of way. The only POV is Christopher Boone, who has Asperger's Syndrome, one of the range of autistic disorders that means there is little or any emotional connection. He struggles to understand other people, but has a very high faculty for remembering details. How accurate this is is almost impossible to say. I don't find it wholely consistant through the book which is annoying, the police are particularly shallowly cast. As can be imagined living with such a child is extremely difficult, and the book features Christopher and his tolerant dad, coping with his mum's abscense. The emotional ties are tricky for him to understand sufficiently to even ask sensible questions. Christopher's attention to detail is also reflected in a painstakingly logical mind, as such one of his 'heros' is Sherlock Holmes - this displays a poor understanding of Sherlock who seldom actually uses any logical deductions - but the interludes of items that Christopher finds of interest are worthwhile, mathmatical puzzles normally. Quite why a chapter appears devoted to evolution isn't so obvious. Overall an enjoyable and quirky read, let down by the details of ordinary life around Christopher. This book was a major media sensation and raised the profile of Asperger's considerably.