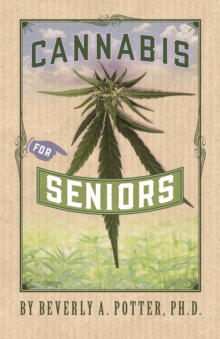 Cannabis for Seniors
Paperback / softback
Description
Cannabis for Seniors is written for independent seniors looking for ways to manage their everyday health concerns without resorting to powerful, habit-forming, potentially dangerous medications.
It is also written for younger family members who care for seniors or simply "keep an eye on" a mother or father who is aging and needs a little help managing physical ailments and mental challenges. Cannabis for Seniors reviews the latest scientific research regarding the health effects of marijuana and the effectiveness of various cannabis strains for managing specific health conditions.
It also presents anecdotal reports on cannabis use by seniors -- so readers can learn about people "just like them" who have tried medical marijuana and had good results. The book addresses the myths and worries that many seniors have about marijuana use showing which concerns are founded in fact and which are simply based on inadequate or partial information.
It discusses various methods of administering medical marijuana, explaining which conditions are best handled by smoking, eating, or using skin patches containing active medicinal cannabis components. It deals in detail with the major conditions that cannabis can help: * Sleep issues * Depression * Alzheimer's disease * Chronic pain * Anxiety * Digestive disorders * Cancer * Glaucoma * Multiple sclerosis * Parkinson's disease * Concussions * Stroke * and many more For each condition, Cannabis for Seniors explains the scientific research and personal anecdotes supporting use of medical marijuana -- helping seniors decide for themselves, or with the help of a caregiver, how best to cope with their personal health situations. Cannabis for Seniors also discusses social elements of life that are facilitated by marijuana.
Research shows that seniors who remain connected to friends, family members and community live longer, happier and healthier lives.
The book shows how medical marijuana can help with these important social connections.
Information
Format:Paperback / softback
Pages:200 pages
Publisher:Ronin Publishing
Publication Date:27/04/2017
Category:
ISBN:9781579512422