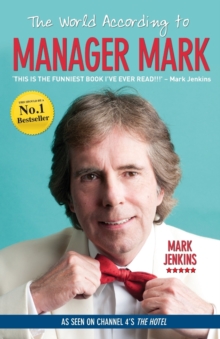 The World According to Manager Mark : Life, Love and Torquay
Paperback / softback
Description
Having driven into the sunset in the final episode of Channel 4's The Hotel, Mark Jenkins is back doing what he does best - entertaining the nation.
His unique take on life, affable charm, and woefully naive exploits are all captured with great comedic effect in this, his first book. In The World According to Manager Mark you will discover just what makes this real-life Basil Fawlty tick.
Containing Mark's opinions on everything from AGEING to YORKSHIRE PUDDINGS, from BUS LANES to VEGETARIANS, and featuring VOL-AU-VENTS, INFLATABLES and countless SAUSAGES, this book houses more entertainment than a hotel in peak season. Frank, forthcoming and downright funny, in this A-Z of Mark's world you'll find a manifesto for a life in which we discover the difference between naturists and naturalists, umbrellas are categorised as dangerous weapons and green food is banned.
Whether you consider yourself rich, poor or normal, and whether you drink real champagne or 'nearly champagne', this book contains something for everyone.
Even the Queen! What's more, you might learn a thing or two. UNBELIEVABLE!
Information
Format: Paperback / softback
Pages: 288 pages
Publisher: John Blake Publishing Ltd
Publication Date: 01/10/2015
Category: Television
ISBN: 9781784188160