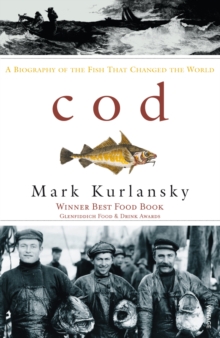 Description
The Cod. Wars have been fought over it, revolutions have been triggered by it, national diets have been based on it, economies and livelihoods have depended on it.
To the millions it has sustained, it has been a treasure more precious that gold.
This book spans 1,000 years and four continents. From the Vikings to Clarence Birdseye, Mark Kurlansky introduces the explorers, merchants, writers, chefs and fisherman, whose lives have been interwoven with this prolific fish.
He chronicles the cod wars of the 16th and 20th centuries.
He blends in recipes and lore from the Middle Ages to the present.
In a story that brings world history and human passions into captivating focus, he shows how the most profitable fish in history is today faced with extinction.
Information
Format: Paperback
Pages: 304 pages
Publisher: Vintage Publishing
Publication Date: 05/02/1999
Category: General & world history
ISBN: 9780099268703
Other Formats
EPUB from £7.99
Paperback from £6.39
Free Home Delivery
on all orders
Pick up orders
from local bookshops
Reviews
Showing 1 - 5 of 10 reviews.
Previous | Next
Review by mktab
16/06/2015
This is some great writing! Pretty amazing to making the life of a fish entertaining and compelling.
Review by sergerca
16/06/2015
Very interesting topic- surprisingly. I really enjoyed learning about the intersection of cod fishing and New World exploration. However, the last major part of the book is almost exclusively devoted to recipes and the culutres who ate them. I had to skip this part as it was very dull. All in all, interesting topic and well done.
Review by NocturnalLibrarian
16/06/2015
A surprisingly entertaining book. Who knew a book about cod could be so full of information and intrigue. The author traces the history of cod and cod fishing and its emmense impact on the world. As a bonus, the author includes many tempting, interesting, and sometimes disgusting recipes for cod.
Review by isabelx
16/06/2015
There is almost no waste to a cod. The head is more flavorful than the body, especially the throat, called a tongue, and the small discs of flesh on either side, called cheeks. The air bladder, or sound, a long tube against the backbone that can fill or release gas to adjust swimming depth, is rendered to make isinglass, which is used industrially as a clarifying agent and in some glues. But sounds are also fried by codfishing peoples, or cooed in chowders or stews. The roe is eaten, fresh or smoked. Newfoundland fishermen also prize the female gonads, a two-pronged organ they call the britches, because its shape resembles a pair of pants. Britches are fried like sounds. Icelanders used to eat the milt, the sperm, in whey. The Japanese still eat cod milt. Stomachs, tripe and liver are all eaten, and the liver oil is highly valued for its vitamins. How did cod change the world? I'm afraid that information is on a need-to-know basis only, and if you need to know, you will have to read this book! This book tells the story of the rise and fall of the cod fisheries of the North Atlantic, and includes a selection of cod recipes from the past 500 years. A note for Mark Kurlansky: Fish and chips is not hyphenated, and it's a chip shop (chippie for short), not a fish-and-chip shop. I'll have cod and chips twice please, wrapped.
Review by LynnB
16/06/2015
After reading Cod, I definitely will read more books by Mark Kurlansky. My work deals with aboriginal rights, fishing being a key one for many communities. Deciding to read Cod was related to my work. My first thought was that I was glad it was a short (276 pages) book. It was fascinating! I will be recommending it to my book club. Mr. Kurlansky talks about environmental, historical, economic and political issues in a way that is readable, and that tells a story. The "cod wars" between England and Iceland were particularly entertaining and even funny at times. I had no idea that it was tiny Iceland who first proclaimed a 12 mile offshore ownership, and first enforced today's 200 mile limit.Not only does this short book talk about exploration and history, it also deals with technology, including the ability to freeze food and how that changed demand for cod. There is a lot packed in here -- including several (too many?) recipes for salt cod. In fact, the whole last section (A Cook's Tale) is a collection of recipes and I did skip most of it.Interspersed with the story