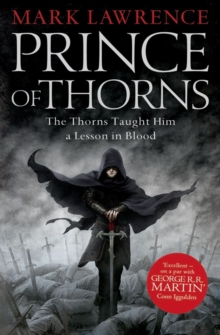 Prince of Thorns
Paperback
Description
From the publisher that brought you Game of Thrones...
Prince of Thorns is the first volume in a powerful new epic fantasy trilogy, original, absorbing and challenging. Before the thorns taught me their sharp lessons and bled weakness from me I had but one brother, and I loved him well.
But those days are gone and what is left of them lies in my mother's tomb.
Now I have many brothers, quick with knife and sword, and as evil as you please.
We ride this broken empire and loot its corpse. They say these are violent times, the end of days when the dead roam and monsters haunt the night.
All that's true enough, but there's something worse out there, in the dark.
Much worse. From being a privileged royal child, raised by a loving mother, Jorg Ancrath has become the Prince of Thorns, a charming, immoral boy leading a grim band of outlaws in a series of raids and atrocities.
The world is in chaos: violence is rife, nightmares everywhere.
Jorg has the ability to master the living and the dead, but there is still one thing that puts a chill in him.
Returning to his father's castle Jorg must confront horrors from his childhood and carve himself a future with all hands turned against him. Mark Lawrence's debut novel tells a tale of blood and treachery, magic and brotherhood and paints a compelling and brutal, and sometimes beautiful, picture of an exceptional boy on his journey toward manhood and the throne.
Information
Format: Paperback
Pages: 416 pages
Publisher: HarperCollins Publishers
Publication Date: 01/04/2012
Category: Fantasy
ISBN: 9780007423637
Other Formats
EPUB from £3.99
eAudiobook MP3 from £10.39
Free Home Delivery
on all orders
Pick up orders
from local bookshops
Reviews
Showing 1 - 2 of 2 reviews.
Review by JR.Raluces
16/06/2015
A promising, exciting debut novel from Lawrence that left me impatient to read the next (yet to be released unfortunately!)It is a powerful, brutal, violent novel, set in an equally powerful brutal vieolent world. A story of revenge, redemption, and confronting nightmares. Based upon a character born as a privileged royal child Jorg, but circumstances mean he soon finds himself at a very young age a ruthless, immoral, moody, at times charming leader of a grim cold blooded mercanary gang of outlaws who commit a wide range of atrocities. Witnessing the tragedy of his mother and brother murdered in cold blood changed the man is was to become. Now dark, sly and calculating with an irrational streak that resides within. Any word or deed that upsets, irritates or angers him can set him off and mean dire consequences for the person who caused it. Usually death. However, there is an hidden depth to Jorg, beyond this side of his character portrayed and it's a face his has to maintain within his gang, who do not know that he is in fact a Prince. He has capabilities to master over the living and the dead which I expect to be expanded upon in the second book. The first person narrative works very well, and the insight it provides into Jorg, his motivations, fears and thoughts is superb, and creates an udnerstanding of the characters and what is driving him, and lends to a liking of this otherwise immoral ruthless person. The storytelling is concise, absorbing and engaging. Fast paced, action detailed well, and there is a lovely flow to the book. The only minor downsides I can say are that the world building is not as indepth or as challenging as it could have been, but then again, the book is reasonably short, and does not get bogged down in uneccessary detialing, which just highlights the story all the more. Other characters, like with Douglas Hulick aMong Thieves book, all have potential that I hope the second book goes on to expand upon since it is somewhat missing in this book. All in all, another cracking debut novel from a promising and challenging author, one who again I can't wait to read the next book in the series!
Review by Elysianfield
16/06/2015
4.5 stars<br/><br/>9 year old Jorg Ancrath sees his mother and brother killed. Soon after he leaves his father and becomes consummated with rage, and guilt for not being able to save them. He flees with group of men freed from the dungeons and 4 years later he is the leader. At the age of 15 he vows to be king.<br/><br/>Although the main character is a teen, this is not a book for kids and Jorg is not very likeable character. And his actions are even less likeable. But I loved it!<br/><br/>The book starts when the gang is torching a village and it sets the pace for the book from the start. There's no hero to root in this book for sure. At first I thought it weird that he's so young and still the leader of them and how he grew up to be so cold. There's flashback's from the past that explains some of the things and while I'm not usually fan of too many flashbacks, I think it worked here. <br/><br/>I liked the relationship between Jorg and Makin. Makin used to be the king's guard and he knew Jorg before he flees from home and he's the one who really knows him. Or at least as much as anyone is able. But it makes Jorg more humane anyway.<br/><br/>My only complain will be the references to "our world". Like at some point someone mentioned Shakespeare and stuff like that. I prefer my fantasy to be totally in other world. But it only happened few times so it wasn't that big of a deal.<br/><br/>I really enjoyed this book and it was truly wonderful debut book. I can't wait for the next book to come out and I hope I get my hands on it! But this may not be for everyone so be warned...
Also in the The Broken Empire series | View all