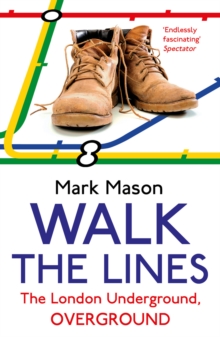 Walk the Lines : The London Underground, Overground
Paperback
Description
The only way to truly discover a city, they say, is on foot.
Taking this to extremes, Mark Mason sets out to walk the entire length of the London Underground - overground - passing every station on the way.
In a story packed with historical trivia, personal musings and eavesdropped conversations, Mark learns how to get the best gossip in the City, where to find a pint at 7am, and why the Bank of England won't let you join the M11 northbound at Junction 5.
He has an East End cup of tea with the Krays' official biographer, discovers what cabbies mean by 'on the cotton', and meets the Archers star who was the voice of 'Mind the Gap'.
Over the course of several hundred miles, Mark contemplates London's contradictions as well as its charms.
He gains insights into our fascination with maps and sees how walking changes our view of the world.
Above all, in this love letter to a complicated friend, he celebrates the sights, sounds and soul of the greatest city on earth.
Free Home Delivery
on all orders
Pick up orders
from local bookshops
Reviews
Showing 1 - 1 of 1 reviews.
Review by Eyejaybee
16/06/2015
Over the last year or so I have taken to walking around London, completing staged routes such as the Capital Ring and London Loop, and have marvelled at the wealth of interesting sight and the variety of neighbourhoods. I am, however, a bit of a lightweight walker compared to Mark Mason who seems to think nothing of covering thirty five miles in a day. Nowadays I get tired just driving that far!Mason lived in different parts of London during his twenties and thirties and, like so many of us, had always been enchanted by Harry Beck's famous (and constantly evolving) map of the Underground system. As a keen walker he gradually formulates the idea of walking the whole length of each of the lines, almost as an act of homage to the city. He is familiar with several of the areas that he walks through, though by dint of his research (aided by his 'geeky' friend Richard who might fairly be described as more than a little obsessive about the Underground) he is deeply informative about all of the localities he visits. Taking the eleven London Underground lines in turn (he eschews the London Overground line as a mere pretender to the status) he follows their route at ground level, taking the opportunity to enlighten the reader with snippets of local history and miscellaneous arcana about the lines themselves. He is an entertaining narrator, and I found myself enchanted by his descriptions of his different journeys. He starts with the Victoria Line, embarking from Brixton and striding out northwards towards the river and beyond, reaching Walthamstow in the early evening, having covered nearly twenty miles. He gives a humorous running commentary as he goes along, peppered with wry observations and social comment, though never to an intrusive degree. I am not sure which I found more entertaining: his descriptions of areas with which I was familiar (and regarding which I seemed to share a lot of his opinions) or his accounts of areas that I didn't know at all. I do know that I am tempted to revisit a lot of his journeys, though my walks will be rather more fragmented than his. Thirty-five miles in a day through London streets is perhaps rather more than I might aspire to, and I will also give his Circle Line pub crawl, featuring a drink at the nearest pub to each of the twenty-six stations, a miss, too.All in all I found this highly entertaining. I hadn't encountered Mark Mason before, but will now certainly be looking for his novels.