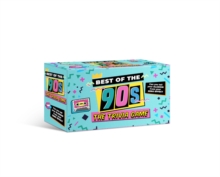 Best of the 90s: The Trivia Game
Game
Description
Return to the decade without boundaries with Best of the 90s: The Trivia Game.
The pack contains 144 trivia and activity cards spanning categories ranging from 1990s culture crazes to influential politics, hit movies, and more.
Also included are essentials for a 90s-worthy game night: a score book and a book including game rules, variations of play, and an introduction to the era.
Challenge your friends and family to reveal their knowledge and discover the true 90s master.
Can be played in pairs or groups. Easy-to-follow rules bring a competitive edge to this trivia collection.
Perfect for movie nights, birthday parties, and new friends, Best of the 90s: The Trivia Game delivers laughter, knowledge, and a spoonful of nostalgia.
Contents: Best of the 90s: The Trivia Game channels the 1990s with interactive, immersive questions and activities.
Seventy classic trivia cards include a variety of questions, 44 double-sided 'Heads Up' cards feature the decade's hottest stars, and 30 'Act Out' cards ask players to 'hum the X-Files theme song', 'quote their favourite Friends character', and more.
Trivia categories cover movies, television, politics, toys, games, and music, while blank cards let players add their own personal spin to the game.
Information
Format: Game
Pages: 96 pages
Publisher: Welbeck Publishing Group
Publication Date: 14/11/2019
Category: Trivia & quiz question books
ISBN: 9781787393646