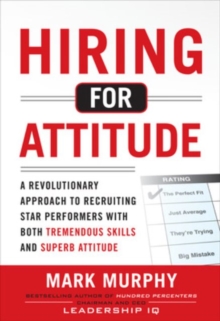 Hiring for Attitude: A Revolutionary Approach to Recruiting and Selecting People with Both Tremendous Skills and Superb Attitude
Hardback
Description
Praise for HIRING FOR ATTITUDE"Success in business starts with finding great talent that will thrive within your company culture.
Hiring for Attitude combines valuable insights with relatable examples, giving you the tools to recruit the right talent for your organization and reduce your risk of mishires."-BRENT RASMUSSEN, President of CareerBuilder North America"Caesars brings our brands to life through the attitude of our team members.
In Hiring for Attitude, Mark Murphy combines the science of selecting for attitude with the wisdom of how to apply it to your business.
The tools in this book are clever and unique and will immediately enhance your culture.
Attitude is the new front in the war for talent, and this book positions you to win."-TERRY BYRNES, Vice President of Total Service, Caesars Entertainment"In the global high-tech world, attitude is critical.
But how do you discover whether someone is both technically brilliant and a perfect fit with your culture?
Moving way beyond standard hiring approaches, Hiring for Attitude has deepened our talent pool, shown us how to discover untapped talent, reduced the risk of hiring the wrong person, and cut turnover substantially."-MITCH LITTLE, Vice President of Worldwide Sales and Applications, Microchip"Who's getting hired this year?
People with great attitudes who can fit a particular culture.
But traditional hiring approaches don't help you discover who is (and isn't) the perfect fit.
Hiring for Attitude will reveal exactly what attitudes you need to succeed.
Whether you're hiring from outside, or choosing the right internal people for a new project, this book gives you unparalleled insight into people's attitudes."-SAM HOLTZMAN, President and CEO, LifeGiftAbout the Book:In a recent groundbreaking study, the training firm Leadership IQ found that 46 percent of all new hires fail within their first 18 months.
But here's the real shocker: 89 percent fail for attitudinal reasons-not skills. Most hiring managers are getting it wrong. Of course skills are important, but a particular skill set is about the easiest thing to test in an interview.
Although much harder to recognize, attitude should be your number-one focus during the hiring process.
Don't suffer from poor chemistry-even one employee with the wrong attitude could cause years of suffering for your other employees and customers. Whether you're hiring new employees, choosing existing employees for a new team, or upgrading your current talent pool, you need people with the right attitude!Attitude is what makes employees give 100 percent effort and turns customers into raving fans.
Attitude sets your company apart from the competition. In Hiring for Attitude, top leadership strategist Mark Murphy shows you:The five biggest reasons why new hires failTwo quick and easy tests to discover the attitudinal characteristics that you need for your unique cultureThe five-part interview question that gets candidates to reveal the truth about what their last boss really thinks of themWhere great companies really find their best candidatesThe six words most interviewers add to the end of behavioral interview questions that destroy their effectivenessHiring for Attitude includes case studies from Microchip, Southwest Airlines, The Ritz-Carlton, Google, and other companies that drive great results by hiring for attitude. Whether your company is small or big, highly social or hyper-competitive, fl at or hierarchical, every person on your payroll has to fit your culture.
You can't afford to hire blind. You need to be Hiring for Attitude.
Information
Format: Hardback
Pages: 240 pages, 10 Illustrations, unspecified
Publisher: McGraw-Hill Education - Europe
Publication Date: 01/12/2011
Category: Personnel & human resources management
ISBN: 9780071785853
Other Formats
Paperback / softback from £10.49
EPUB from £15.12
Free Home Delivery
on all orders
Pick up orders
from local bookshops