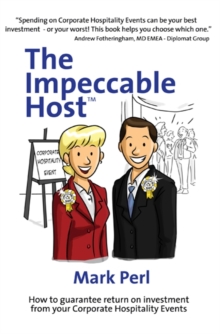 The Impeccable Host
Paperback / softback
Description
The Impeccable Host is the world's first, definitive, training resource on how to Host corporate hospitality events of all types and sizes, more profitably than you ever have before.
With well in excess of GBP1.3 billion being spent on corporate hospitality during the year of the Olympics in the UK, a significant amount of that will be spent on businesses using the opportunity to extend corporate hospitality to their clients.
However, studies have shown that most companies have no idea how to measure the effectiveness of that spend, or more importantly, how to influence it.
This book guides you through tactical, interpersonal processes which any savvy Executive can manage, to improve yield from events in three key areas: 1) Customer acquisition; 2) Revenue generation; 3) Customer retention.
Through an extensive career as an operational manager in hotels, corporate hospitality, conferencing and events, Mark Perl has developed a deep understanding of the value of 'connection' and the tactical skills of 'networking'. In today's highly competitive marketplace, acquiring superior relationship development skills differentiate the extraordinary business professional from the ordinary. Mark demystifies the tactical processes involved in becoming a confident and effective relationship builder and business developer.
He helps professionals to explode their self-confidence, develop profitable relationships with ease, and to win new business in a way that brings in more money, consistently, with less personal stress.
Information
Format: Paperback / softback
Pages: 285 pages
Publisher: Filament Publishing
Publication Date: 04/02/2013
Category: Hospitality industry
ISBN: 9781908691057
Free Home Delivery
on all orders
Pick up orders
from local bookshops