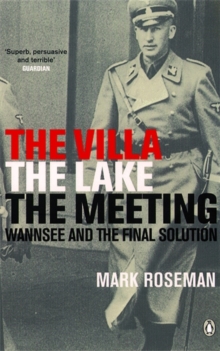 The Villa, the Lake, the Meeting : Wannsee and the Final Solution
Paperback
Description
At a villa on the shore of the Wannsee, a lake in suburban Berlin, on 20th January 1942 one of the most terrible meetings in human history convened. Chaired by Reinhard Heydrich and organised and minuted by Adolf Eichmann, it brought together representatives of all the principal Nazi agencies in eastern Europe.
Pooling the expertise of those present, Heydrich created the plan that would let Europe 'be combed through from west to east' for Jews and which would put the Final Solution on a rational and industrial footing.
Information
Format: Paperback
Pages: 160 pages
Publisher: Penguin Books Ltd
Publication Date: 31/12/2002
Category: European history
ISBN: 9780141003955
Free Home Delivery
on all orders
Pick up orders
from local bookshops
Reviews
Showing 1 - 2 of 2 reviews.
Review by RobertDay
16/06/2015
A short, focussed book on the Wannsee Conference; the event that codified the Holocaust. Roseman examines the Holocaust through the burning lens of this pivotal event, and uses his analysis of Nazi politics to explore the reasons why the most cultured nation in Europe turned for ten or so years into the most barbarous.His conclusions are that there was no one reason for the Holocaust; but the picture he paints brings it home. The Holocaust was down to a mixture of historical prejudice, the culmination of 100 years of nation-building, the parallel 100 years of debate over Pan-Germanism, the theory of German defeat through betrayal in World War I, Hitler's own status as Führer and what that meant to the perception of his position and (seeming) infallibility, plus his own policy of keeping in power through encouraging savage social Darwinism amongst his subordinates, and the Nazis' own acceptance of violence and murder as a legitmate political tool.The book is meticulously researched; given that the participants in the Final Solution did their best to hide the evidence of what they did, we have to thank the traditional German efficiency and bureaucracy for preserving so many of the primary sources that prove the fact of the Holocaust. Why anyone can persist in denying this event is beyond me, save that they either do not want to believe it, or they would happily participate in it themselves.
Review by BrianHostad
16/06/2015
Very readable, but very short
Also by Mark Roseman