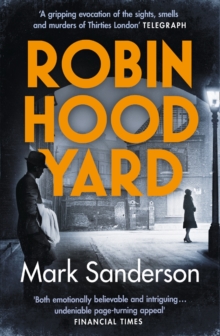 Robin Hood Yard
Paperback
Description
London, 1938. With a world war on the horizon, a shocking crime begins to unfold - and one reporter knows too much to be allowed to survive.
An absorbing and gripping mystery from the critically acclaimed author of SNOW HILL.November, 1938.
Europe is teetering on the edge of war...Anti-Semitism is on the rise in Britain, and a serial killer is at work in London.Johnny Steadman, investigative journalist, is called to the scene of a gruesome murder - a man has been tied to his bed, mutilated and left to bleed to death.
This is the second time the killer has struck, and it won't be the last.
Together with DC Matt Turner, Johnny tries desperately to find a link between the victims.When the next Mayor of London is subjected to a vicious Anti-Semitic attack, Johnny begins to wonder if the two cases are connected.
Against a backdrop of escalating violence in Nazi Germany, he uncovers a shocking conspiracy that could bring the United Kingdom to its knees.
But will Johnny live to tell the tale?
Information
Format: Paperback
Pages: 288 pages
Publisher: HarperCollins Publishers
Publication Date: 02/04/2015
Category: Crime & mystery
ISBN: 9780007296842
Other Formats
EPUB from £3.99
eAudiobook MP3 from £9.59
Free Home Delivery
on all orders
Pick up orders
from local bookshops
Reviews
Showing 1 - 1 of 1 reviews.
Review by atticusfinch1048
27/08/2015
Robin Hood Yard – Wonderful Evocation of 30's LondonRobin Hood Yard is the third in the novel in which author Mark Sanderson uses the investigative journalist John Steadman and Detective Constable Matt Turner in the evocative 1930s square mile in the City of London. This is the City of London before concrete and glass took over, this is the City in which people still lived and made things to sell, amongst the financial sector workers, in the dark backstreets and alley ways, Pubs and buildings that are no longer there as well as some that are still around today.Investigative Johnny Steadman is the best crime reporter on the Daily News, and he does do well out of his friend (who he has been friends with since his school days) and a detective, Matt Turner. He is allowed to witness the corpse of a murder victim who has had his gentleman's appendage removed possibly as some sort of trophy. When a second victim suffers the same fate both Johnny and Matt try to work out what the connection is to both victims as they look completely unconnected except that they live in lodgings in the City of London's square mile.Leo Adler is about to become the next Lord Mayor of London and with the war clouds gathering over Europe and rumours of how the Jews are being treated in Germany, a Jewish banker is set to take over at the Mansion House. In the weeks before anti-Semite attacks on Bevis Marks Synagogue as well as on Adler himself, who also is sent various items to cause distress. What Steadman discovers could bring not only Britain to her knees but quite a few City types while putting him in danger.While Steadman runs his two investigations, Turner investigating the murders there is another story of blackmail taking place that causes intrigue which enables you to question the integrity of one or more institutions. Ye Old Mitre, an establishment even I have frequented, is mentioned quite a few times as are a few places that were either destroyed during the war or worse by city planners.What all this adds up to is a fast paced thriller in which we get everything a reader could want, dead bodies, conspiracy theories all played out in the shadow of war. The language used is evocative of a lost age and the imagery that it gives off is the dark seedier side of London and the City, this is the London before the planners really got their hands on it. This book may only be two hundred odd pages long but it certainly packs a punch that is an entertaining read, one that I cannot recommend highly enough.