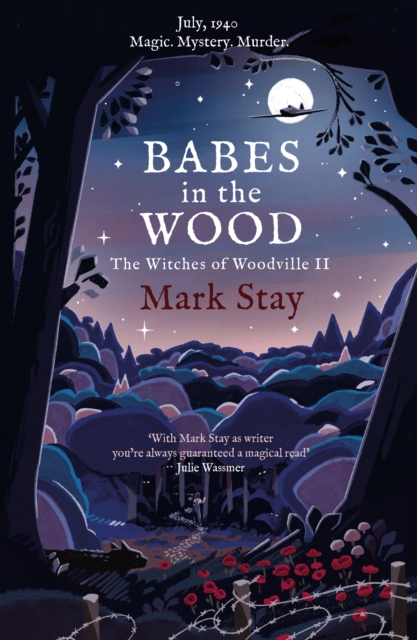 Babes in the Wood : The Witches of Woodville 2
Paperback / softback
Description
'A young witch to rival Tiffany Aching. Magic!' FMA Dixon 'ACE. Smart and funny and written so warmly. It's an absolutely smashing read' Pernille Hughes, author of Probably the Best Kiss in the World July, 1940.
In a quiet village in rural Kent, a magical mystery leads to murder . . . Woodville has returned to 'normal' after the departure of the Crow Folk.
The villagers put out fires from aircraft shot down in the Battle of Britain, and Faye Bright discovers that magic can be just as dangerous as any weapon. The arrival of a trio of Jewish children fleeing the Nazis brings the fight for Europe to the village.
When their guardian is found dead, Faye must play nanny to the terrified children while gathering clues to uncover a dark magic that threatens to change the course of the war. And she must do it quickly - the children have seen too much and someone wants them silenced for good. ***For fans of Lev Grossman and Terry Pratchett comes the second novel in this delightful series of war, mystery and a little bit of magic . . . Don't miss the other magical books in the WITCHES OF WOODVILLE series! #1 The Crow Folk #2 Babes in the Wood #3 The Ghost of Ivy Barn #4 The Holly King Praise for The Witches of Woodville series 'Beautiful and engaging and clever and what more could you ask for in a book?' Manda Scott, bestselling author of A Treachery of Spies 'Swept me straight back to days of losing myself in Diana Wynne Jones novels, and getting lost in truly absorbing, sometimes scary, sometimes emotive adventure with its roots in folklore and history.
A story that is full of magic and delight that will thrill readers of any age' Rowan Coleman, author of The Girl at the Window 'Extremely funny, full of imagination, verve and typical English "home counties" wit' Irish Independent 'A delightful mash-up of Dad's Army and Charmed.
An absolute treat' CK McDonnell, author of Stranger Times 'Warm, witty, witchy wartime fun.
With Mark Stay as writer you're always guaranteed a magical read' Julie Wassmer, author of the Whitstable Pearl Mysteries 'You'll love it: Doctor Who meets Worzel Gummidge' Lorna Cook, author of The Forgotten Village 'A jolly romp with witches, demons, and bellringing.
Pratchett fans will enjoy this, and Faye is a feisty and fun hero.
Dad's Army meets Witches of Eastwick' Ian W Sainsbury
Information
Format:Paperback / softback
Pages:416 pages
Publisher:Simon & Schuster Ltd
Publication Date:28/10/2021
Category:
ISBN:9781471197994
Information
Format:Paperback / softback
Pages:416 pages
Publisher:Simon & Schuster Ltd
Publication Date:28/10/2021
Category:
ISBN:9781471197994