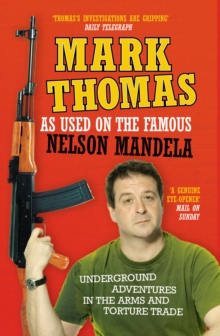 As Used On the Famous Nelson Mandela
Paperback
Description
Mark Thomas is one of the UK's most effective and best-known political activists, as well as being a highly successful stand-up comedian.
His show, "The Mark Thomas Product", ran for six highly acclaimed series on Channel Four.
Amazingly, this is his first book. "As Used On the Famous Nelson Mandela" is a deeply funny, deeply disturbing account of Mark's rampage through the arms trade.
Under a fairly flimsy disguise and with the use of some worryingly poor accents, Mark set off on a journey of discovery in the company of arms dealers, torture victims, politicians, cops, crusties and geeks.
The result is a shockingly entertaining read. Embedded within the sharpness of his humour is the truth of an industry fraught with loopholes, complacency and greed; that allows corrupt regimes to kill, maim and displace, but whose deals are often subsidised by the British taxpayer.
Hard-hitting, laugh-out-loud funny and extremely unsettling, "As Used on the Famous Nelson Mandela" is never anything less than compulsive.
Information
Format: Paperback
Pages: 352 pages
Publisher: Ebury Publishing
Publication Date: 05/04/2007
Category: Arms trade
ISBN: 9780091909222
Free Home Delivery
on all orders
Pick up orders
from local bookshops
Reviews
Showing 1 - 3 of 3 reviews.
Review by annafdd
16/06/2015
Not as fun as listening to the man talk, but full of very interesting (if depressing) information
Review by grintoul
16/06/2015
Well known for both his stand-up comedy and his human rights campaigning, Mark Thomas uses a combination of his trademark humour and investigative journalism in this polemic about the arms trade. Critically examining the laws surrounding the transfer of weapons around the world – and the abundant loopholes – Thomas takes aim and fires at governments, arms dealers and global corporations.In an increasingly globalised world, where cross-border trade is inseparably intertwined with the global financial system, the arms trade signifies free trade at its worst. Hopping from one country to another, arms dealers can simply take advantage of different laws in different territories to import and export weapons to just about any regime on the planet. Indeed, in many cases government turn a blind eye to (or actively support) these deals, often worth vast sums of money to their economies. Factor in the bribes to officials, and it's a done deal.Thomas' book covers an enormous range of scenarios and experiences, many of which are from his own first-hand investigations and sting operations, or interviews with those who have been involved in the arms trade - at both ends of the barrel of a gun. From the Guantánamo torture equipment with 'Made in Britain' engraved on it to the Irish schoolchildren who were able to legally import a lethal stone-thrower, the investigations provide some jaw-dropping examples of the scale and horror of the global arms trade.Giving an incredible insight into the minds of arms dealers, the book demonstrates time and time again the kind of people they are. On discovering he was about to sell a weapon that to a group of kids, for example, the dealer who was demonstrating the stone-thrower claimed that how it was used was none of his responsibility. "It could fire sweets," he says, as if that is how he believes Israel uses it against the Palestinians.While the scale and variety of Thomas' investigation clearly demonstrates and emphasizes both the need for action and the author's strong feelings on the subject, it is unfortunately also his downfall. Jumping from one subject to another, and in places simply bullet-pointing examples for pages on end, the whole book feels somewhat cobbled together. While clearly well-researched, Thomas could really have done to limit the scope of his argument and the number of examples. As it is, it feels disjointed and lacks a coherent argument other than 'the arms trade is bad'.All in all, though, As Used On The Famous Nelson Mandela is a fascinating if depressing exposé about the world arms and torture trade. While anyone looking for a flowing argument should probably look elsewhere, as a 330-page collection of first-hand research into the wrongs of this horrific business it proves a good resource. Had the subject matter not been such a key issue about which awareness must be raised, I would have given Thomas' book a slightly lower rating. As it is, it gets four stars despite its rambling feel.
Review by fieldri1
16/06/2015
At the Edinburgh Festival in 2006 I was handed a flier for Mark Thomas' show. The flier promised a free copy of this book. I would have booked a ticket anyway, but I managed to get a ticket on the last day of his show (after queuing for *ages*)If you don't know Mark Thomas' comedy then he is an aggressive, shouty left winger. His passionate fury against those who wrong us is both funny and energizing.This book is the story of Mark's experiments in how permiable the rules on international arms dealing actually are. The events veer between the comic, the surreal and the baffling. With the help of a group of school children he even manages to import electric batons, favoured by various police forces as *the* torture tool of choice.Such an enjoyable book that it brought back to mind the energy and laughter of the live show that it accompanied. And the live show was so enjoyable that I'm going to see it again (closer to home in Cambridge) this month (May 2007):o)