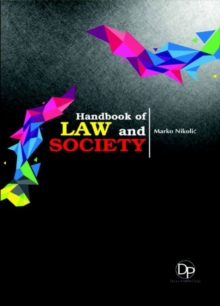 Handbook of Law and Society
Hardback
Description
In this handbook we are observing law and society as two disciplines that are in correlation with each other and nothing can be explained without both of them.
Without the influence of the law on the society, society itself would become uncontrollable, so, to keep the society peaceful, we need to create a harmonious relationship between law and society and to let Law to enforce and maintain ethical standards and civil obedience.
Also, in situations when emergency arise, society can influence the law to be changed by the officials.
Therefore we can say that the relationship between law and society is interrelated. No one has yet provided a precise definition of what cultural diversity is, what we can observe is the emergence of the notion of cultural diversity as incorporating a distinct set of policy objectives and choices at the global level.
In chapter 1 we look at simultaneous pursuit of economic and other societal goals that cultural diversity encompasses and has effects on.
Accounting for these intricate interdependencies, the present chapter clarifies the origins of the concept of cultural diversity as understood in global law and traces its evolution over time.
Second chapter of this handbook talks about legal transplants as they are the fastest way for the evolution of legal systems in different countries.
Goal of this study is to review certain EU legal concepts from a comparative law and linguistics perspective and to create guidelines for adapting these EU law concepts to the conceptual system of the member states.
Chapter draws on comparative law studies for the theory of legal transplants and on linguistics for the methodology of terminology.
In the next chapter we are talking about media's emphasis on risks and the elitist specious creation of collective worries, in particular with relation to the criminal phenomenon and influence of the media representation on the legislative choices of criminal politics, focusing the attention on the risks that it might be involved, with reference to the violation of some fundamental principles in the democratic modern systems.
Chapter 4 provides us with information about legal problems in Canada as part of everyday life and shows us that beside one of the best legal systems in the world most Canadians cannot afford to use it.
Not just in the terms of money but also time, physical and mental health, and their livelihood Using a law as an instrument of constraint to keep people from damaging behavior, and how in modern system of written law it helps maintain peaceful coexistence among population is something we will be looking upon in our Chapter 5.
Evidence of a financial crime in the global financial crisis is examined in chapter 6.
It concentrates around legal impunity surrounding these crimes since the 1970s and the revolt against abuse in financial and legal system and how those manipulations led to massively increased inequality and concentrations of wealth and political power in the hands of the super-rich.
In chapter 7 we examine culture of the courtroom and how a culturally based argument in a defense would be detrimental or beneficial to the defendant, and how juror ethnocentrism might affect perceptions of such a defense, while in chapter 8 we find the place and the role of a lawyer and his necessity in modern society.
We will read some more about importance of Interpretivism to understand the contemporary social world in Chapter 9.
Ratio between incarcerated women and women in general population and which of them is more likely to have experienced interpersonal violence is what we examine in chapter 10.
Chapter 11 gives us more information about legal Standards for Social Media-Based Terminations because of the increased use of social media sites led on to a new phenomenon called "Facebook fired" where an employee is fired for personal social media use.
Chapter 12 addresses the fact that "Criminal law," as that term is currently understood, does not exist in the classical Islamic legal tradition, and this article addresses related misconceptions and overview of Islamic Criminal law while the Chapter 13 addresses the recognition of cultural diversity as a value of the European Union Law that is undoubtedly present in the current process of integration, which, in turn, is related to the maintenance of peace.
Recognition of men's violence against female intimate partners and how a family law systems are located at the intersection of contradictory gendered expectations are reviewed in chapter 14.
Seual abuse allegations in Divorce Proceedings is the subject of Chapter 15 as the family is the basic unit of society.
Chapter 16 shows us that In recent years, alcohol use by young people has received considerable attention and also show us relationship between underage alcohol possession and criminal behavior through a cohort, age, and period analysis while Chapter 17 charts the development of child advocacy as an interdisciplinary field of study, its focus in the past and what the future of child advocacy depends on.
A study in chapter 18 concludes a unique purpose of a social worker as a part of a professional team in a drug related criminal charges, and how the use of his knowledge and skill may contribute such cases.
Growing recognition in criminology and social work of the importance of Indigenous knowledges and methodologies is the subject of Chapter 19.
Study reviewed in chapter 20 examines the substance use and criminal history profiles of probationers participating in an experimental drug treatment study and how probationer characteristics affect employment outcomes and gross earnings at both the 6- and 12-month follow-up periods.
It stays on future generation of experts to deepen this connection and come to better and more effective solutions, so both legal and rights regarding being members of society would be preserved more effectively.
This is an everlasting project.
Information
Format: Hardback
Pages: 220 pages
Publisher: Delve Publishing
Publication Date: 30/11/2016
Category: Crime & criminology
ISBN: 9781680957907
Free Home Delivery
on all orders
Pick up orders
from local bookshops