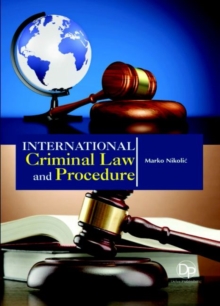 International Criminal Law and Procedure
Hardback
Description
A small number of areas in the law are connected to as much controversy International criminal law and international criminal tribunals.
The reason for this is the fact that international activities are always burdened with politics. Because of this we can consider this for scientific field in its infancy and constant development, with often steps back on its way.
Meaning and basic principles of justice should be universal but the world will need many more years to come to good, working solutions.
Until then we have to work with what we have, and still wander from problem to problem, from one conflict to the next crisis.
Hoping that we are all moving to a better future. In The New Terrain of International Law, Alter presents a panoramic view of modern international courts and argues convincingly that they influence domestic and international politics as never before.
Whether the current development of international courts represents a new era or is a temporary golden age will depend on the degree to which the courts serve the needs and interests (both material and normative) of those who live under the legal rules those courts curate?
That is the question asked in the Chapter 1. Throughout the world, there is a growing consensus that America has a lack of credibility as a fair and just world leader.
War on Terror is critical because terrorism is not a conventional threat that can surrender or can be defeated in the traditional sense.
More on this subject is in Chapter two. How institutions such as the International Criminal Tribunal for Rwanda, the International Criminal Tribunal for the former Yugoslavia (ICTY), and the permanent International Criminal Court (ICC) has reshaped how atrocities are handled at the international level is the question of Chapter 3.
Chapter 4 will present and contrast the definition of enforced disappearance in respectively national and international criminal law in Bangladesh.
It is also shown that the current situation amounts to a continuous violation of national and international customary law and that continued enforced disappearances constitute international crimes and crimes against humanity.
Finally, some recommendations will be put forward to bring about an end to the situation.
Principle of proportionality indicated to, are that the criminal codes should contain for crime or category of crimes.
The Tribunals' Rules of Procedure and Evidence has been given additional directives on sentencing but The ICC Statute, does not provide precise penalties for specific crimes.
This subject is further elaborated in Chapter 5. Chapter 6 examines the ways in which principal perpetrators of sexual violence crimes are situated in an international criminal court.
It is based on a narrative psychological analysis of the sentencing judgments of the International Criminal Tribunal for the former Yugoslavia.
On the other hand, Chapter 7 discuss whether the US should have captured Osama Bin Laden alive and put him on trial, as per the Nuremberg precedent set in the apprehension and subsequent judicial sentencing of Nazi World War II war criminals.
In July 17, 1998, 120 states voted to adopt the Rome statute of the ICC at headquarters of the FAO in Rome.
The elaborate and complex negotiated instrument, a framework for an international criminal justice system, represented the highest point of a process that began in the wake of the Nuremberg Judgement, when the first time United Nations considered the establishment of an international criminal jurisdiction.
This is elaborated in Chapter 8. Chapter 9 study the role of international tribunals, like the International Criminal Court (ICC), as an effective way of reducing the number and/or gravity of crimes against humanity.
The term `crimes against humanity' has been widely used by different people to mean different things.
Chapter 10 traces how crimes against humanity as a category of international crimes emerged and its essential requirements and how courts and institutions have developed and interpreted it, since the term crimes against humanity has acquired both a legal as well as socio-political perspective.
The rape of women has for centuries been an endemic feature of war, yet perpetrators largely go unpunished.
Chapter 11 briefly maps historical attitudes towards rape in war, outlines some analyses and explanations of why rape in war occurs and finally turns more substantively to recent efforts by the international community to prosecute rape as a war crime and a crime against humanity.
Chapter 12 investigates the political function of human rights in 16th-century Spain just after the conquest of America.
It claims that the study of this period of early globalization is relevant for an understanding of the function of human rights discourses today, at the "end" of globalization.
Chapter 13 interrogates conditions by which deeply divided societies such as Zimbabwe can move forward through a recognition paradigm often used by Truth Commissions (TCs).
The study is located within a dispute that troubled societies cannot fully reconcile as long as pre-existing grievances are not addressed.
Wars, confrontations and conflicts in general, between two or more opposing factions, have always represented a serious threat to the integrity of the cultural heritage located in their territories.
Cultural property protection is the subject of Chapter 14.
Chapter 15 analyze the so far published selection and strategy papers of the Office of the Prosecutor ("OTP") of the International Criminal Court ("ICC") with a view to their consistency, coherence and comprehensiveness.
Nelson Mandela once said: "We owe our children, the most vulnerable citizens in our society, a life free of violence and fear." Chapter 16 contains a speech dealing with this serious topic.
More recently, international law has penetrated the once exclusive zone of domestic affairs to regulate the relationships between governments and their own citizens, particularly through the growing bodies of human rights law and international criminal law.
Read about this in Chapter 17. International lawyers and international relations scholars certainly have a role to play, along with moral philosophers, in debates on global justice.
The expertise of international lawyers could most obviously help to characterize existing norms in international law, thus providing a factual basis for a moral reckoning of international law.
International relations theories, on the contrary, may help us to envisage realistic steps toward a more just international law.
Chapter 18 covers this topic. Chapter 19 bring one more actual question, whether the EU is utopia that is falling apart or model of accountability and democracy while we finish with Chapter 20 and the dogs of war which are awaken.
Dangerous times are in front of us. We need educated and informed people in eternal hope that the bloodsheds will be stopped and people responsible for crimes punished.
Information
Format: Hardback
Pages: 208 pages
Publisher: Delve Publishing
Publication Date: 30/11/2016
Category: International criminal law
ISBN: 9781680957945
Free Home Delivery
on all orders
Pick up orders
from local bookshops