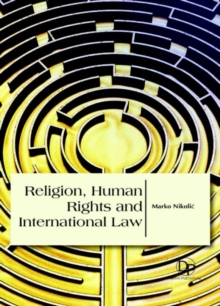 Religion, Human Rights and International Law
Hardback
Description
Attachment points between religion and law are numerous.
Both derive from the same base: morality protected by the rules and ideals which we should be aiming to preserve.
Religious freedom is of course a fundamental human right.
There is no universal religion, but intimate religious feelings must be protected universally. And the highest human values of the given social group, in turn, can be found in the religious writings. Human rights are meant to represent a secular morality.
But the fact is human rights are actually based on faith, which can be read in the Universal Declaration of Human Rights as a primer in the protection of human rights.
You will start seeing a connection between law and religion in the first Chapter and then get known with origin of our contemporary usage of the phrase "human rights" and in particular how it emerged out of a discourse of dissent and democratic activism in Chapter two.
The idea of human rights did not begin with the establishment of the United Nations, its roots can be found in different world cultures and religions.
The adoption of the Universal Declaration of Human Rights by the UN General Assembly in 1948 was a landmark achievement in world history as it was the first time that the international community set down formal standards of human rights and freedoms that should be enjoyed by everyone, everywhere.
So, in the Chapter 4 we will ask are the welfare state and religious freedom incompatible?
Chapter 5 says the international humanitarian law rules governing non-international armed conflict remain much less developed than those for international armed conflicts.
This kind of conflicts are mostly religious and here we find another point of attachment.
Religion on the other hand can tell apart different ethnic groups, Chapter 6 offers more on the cross race effect.
Mob justice is the subject of the next Chapter. Chapter 7 intends to investigate the impact of the mob justice system and find out what the role of the Christian church should be in the midst of this escalating violence on the example of South Africa.
Chapter 8 examines three dimensions of American religion-belonging, behavior and belief-by creating a single, unified scale of religiosity and testing it.
Chapter examines the ability of the new scale to predict how people will answer questions on contentious societal issues, using belief in evolution as a case study.
If successful this can be used on various questions in different parts of the world.
Chapter 9 concern is the current difficulty of discussing questions to do with race, ethnicity, difference and immigration because of the fear of being called a racist.
Racial threat theory was developed as a way to explain how population composition influences discriminatory social control practices and has become one of the most acknowledged frameworks for explaining racial disparity in criminal justice outcomes.
You can read more on this in the Chapter 10. Religious circumcision was forbidden by the regional court declaration saying ritual circumcision of a male infant illegal in Germany in 2012, was this in line with European human rights law and international law?
What else a State needs to consider, besides its international legal obligations, when developing its foreign policy?
Next Chapter exams how religion and realism affect a country's foreign policy by using the case of Israeli-Palestinian conflict.
France is known as the homeland of secularism, homeland of the great revolution.
But what is going on there after the conflicts from the last couple of years?
On the position of Muslims in modern France read more in Chapter 13.
Also, Chapter 14 will deal with religious authority on modern politics.
Chapter 15 discuss construction of secularity in the Tibetan exile society by examining the English-language discourse on the unfolding process of secularization, as well as the emergence of an ideology of secularism and secular democracy.
State and religion are connected in this culture, that's the reason this Chapter should be closely studied.
Chapter 16 evaluates two influential theories of freedom of religion in political theory, before introducing an alternative one while Chapter 17 gives more on directions in religious pluralism in Europe.
Why do nations obey international law remains among the most perplexing questions in international relations so we will do the same in Chapter 18.
Chapter 19 argues that the separation between law and religion is porous.
That the border between them must be constantly maintained and policed.
We will finish with political theology and colonial (and other) exceptions in the creation of modern and global worlds to once more highlight the importance of this topic.
In the days when flames of religious wars continue to burn with full strength in the world connection of religion and laws is gaining importance once more!
Information
Format: Hardback
Pages: 214 pages
Publisher: Delve Publishing
Publication Date: 30/11/2016
Category: Religious issues & debates
ISBN: 9781680957983
Free Home Delivery
on all orders
Pick up orders
from local bookshops