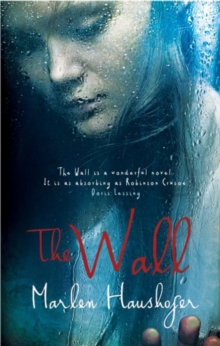 Description
Considered her greatest literary achievement, Marlen Haushofer's The Wall is the story of one quite ordinary, unnamed middle-aged woman who awakens to find she is the last living human on Earth.
Surmising her solitude to be the result of a too successful military experiment, she begins the terrifying work of not only survival, but self-renewal.
First published in English more than twenty years ago, Quartet Books are proud to issue a brand new edition for 2013.
Information
Format: Paperback
Pages: 216 pages
Publisher: Quartet Books
Publication Date: 01/06/2013
Category: Science fiction
ISBN: 9780704373112
Other Formats
eAudiobook MP3 from £16.76
Free Home Delivery
on all orders
Pick up orders
from local bookshops
Reviews
Showing 1 - 2 of 2 reviews.
Review by clfisha
16/06/2015
Beautiful, claustrophobic, haunting apocalyptic tale of the self.Our unnamed narrator wakes to an unusually deserted house and, worried, she walks to the village, except she can't. There is a wall, invisible but solid and beyond is silence. Oh there is a man there, but he is unmoving, and there are birds, fallen stiff to the ground and glassy eyed. The wall is all encompassing, a prison and a saviour and it makes her the last human alive.Utterly bewitching, a book to read in a summers day by a babbling brook to truly chill you to the core. Oh it's not frightening, this is not a tale of action of horror nor is it a book of science or survival. No it is a haunting story of one women who learns to live with who she is, a story of humanity when there is only 1 of us left. Her psychological struggle to survive and to relearn how to live. Not that she is not alone, she has her animals; the dog Lynx and the cats and Bella the cow, personalities to fill the pages and keep her afloat. Of course not liking the protagonist is going to kill the enjoyment of the book and so is the fact that you may not agree with all her choices. However I would suppress that and let her personality dictate the believability, for me the choices felt like hers, they felt real. Her fear of truly exploring, her need to make a secure home. The need to write a diary during the long winter hours that no one will read. The way she understates huge things and the constant repetitive foreshadowing of one horrible event and the harsh, unsentimental description that follows. The story exudes her very being.Hugely recommended. This is a story that stays with me. It may not be as powerful for you but anyone interested in tales of what makes us human or apocalyptic events should seek it out.
Review by SandDune
16/06/2015
Put simply, this book has affected me as deeply as any book I've ever read. I cannot recommend it highly enough. I cannot believe how I was completely unaware of such a powerful book or its author until a few days ago. I have the excuse that Marlen Haushofer was an Austrian author writing in German, and The Wall was originally published in 1963, but it's a book that deserves to be much, much better known.An unnamed middle-aged woman is invited to accompany her cousin Louise and her rich husband Hugo on a visit to their hunting lodge nestled at the end of an Alpine valley. On their first evening the couple decide to visit the village inn for a couple of hours: when they have not retuned by bedtime the woman is surprised, but not overly concerned as her cousin is a sociable woman. But in the morning the woman discovers that the couple have still not returned and so, now worried, she sets off to walk to the village to investigate. But at the end of the gorge that leads down from the hunting lodge she encounters an invisible barrier, a smooth transparent wall, which blocks her progress along the road. It soon becomes apparent that it is not just the road that is blocked, the wall continues along the mountainside and the woman is seemingly trapped in the valley. And as she investigates the extent of the wall, the woman makes another discovery: an old man who she can see in the distance outside his small farm is seemingly solidified in the act of washing; small birds have fallen from the sky like stones and lie dead upon the ground; cows lie in the pasture without breathing. And it dawns on her slowly that all the animal life on the other side of the wall is dead and petrified, but whether this is a local phenomenon and what has caused this she cannot say.But at this point readers needs to abandon all thoughts of the science-fiction novel which this preamble might be creating in their minds, as the novel is of a very different type. The entire narrative is formed by a record written by the woman of her time behind the wall a number of years later, and it consists of a moving and at times heartbreaking account of her attempt to survive. It is the day to day story of her struggles to grow food to see her through the harsh alpine winters. It is the story of her attempts to care for the few domestic animals that she finds on her side of the wall: a cow, a cat, and above all her cousin's hunting dog Lynx. It is the story of her grief and loneliness and her efforts to carry on with her knowledge that everyone she has ever loved is probably dead. It is not a plot driven book: readers expecting an apocalyptic adventure story are going to be disappointed. But it has the most beautiful account of the relationship between humans and their animals that I have ever read.I can't recommend this more highly
Also by Marlen Haushofer