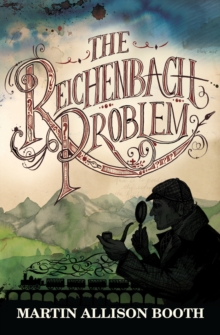 The Reichenbach Problem
Paperback
Description
'I was still not quite sure when, exactly, my disinclination towards people began.
I know, though, that it had a great deal to do with the bane of my life - the great Mr Sherlock Holmes.' Conan Doyle is on the run from his own fame, and the impact it has had on his life.
Having fled to a peaceful village among the mountains that house the Reichenbach Falls, he hopes to find the anonymity he needs to decide the destiny of his most popular creation.
Yet peace eludes him as he finds himself drawn into the mystery surrounding the death of a fellow tourist. Who killed Peter Brown? What does the local priest know that he's not saying?
What effect is Holmes having on Doyle's psychological state, and is it malignant?
Soon he finds the finger of suspicion is pointing at him, as the locals unite behind the troubled Holloway, who believes he is the embodiment of Sherlock Holmes.
Information
Format: Paperback
Pages: 368 pages
Publisher: Lion Hudson Plc
Publication Date: 22/03/2013
Category: Fantasy
ISBN: 9781782640165
Free Home Delivery
on all orders
Pick up orders
from local bookshops
Reviews
Showing 1 - 5 of 5 reviews.
Review by SarahSS
16/06/2015
The Reichenbach Problem is the first book in the Reichenbach Trilogy. Martin Allison Booth spins a fictional tale of Conan Doyle, Sherlock Holmes's creator. Doyle is overwhelmed by the changes that have occurred in his life due to the fame of his Holmes mysteries. Therefore he is now seeking peace in the mountains of Switzerland. However, that will not be! Instead, a death occurs, Doyle is basically forced into investigating, and then it seems like everything that could go wrong does for him!We are introduced at the beginning of the book to Richard Holloway, who became a sort of leach to Doyle. He is an odd character that just seemed to rub me the wrong way. Honestly, I actually hoped he might be on the receiving end of this murder mystery, but he stayed full of life!! And yet he never gained any of my sympathy! Now Father Vernon was my favorite character in this book. He provided a balance to the craziness of the death, the other characters, and events, like a séance. He also gave so much effort, as in possible self-sacrificial, to help a stranger.I was excited to start this series - my family is definitely mystery fans! However, I found it very slow in action until the last maybe 1/3 of the book. And what was lacking in action was made up for how much we heard from Doyle - in thoughts and words. Also, there seemed to be so much going on with all the characters that I found it hard to remember who was who. It just seemed like there was so much people drama that was pointless to the story (or at least to the story that was advertised on the back). In addition, there was an issue with a man's sexuality that came out in the open during the story and caused a family problem that went throughout the book. (The way that Doyle figured out this was much too random?!) I wasn't expecting this issue handled this way in a book that is published by a Christian publisher. I don't know?!... I find it very unpleasant to be so hard on any person's creation. However, I do want to be honest, because that is what is required of a book reviewer or actually any reader because we invest our time, which is precious and limited, in each book we choose to read. I don't plan to continue reading this series. Disclosure: I received a copy of this book from Kregel Publications in exchange for a fair and honest review.
Review by vintagebeckie
16/06/2015
The name Reichenbach will trigger definite feelings for all fans of Sherlock Holmes. The site of Holmes final battle with nemesis, Moriarty, is the setting and inspiration for Martin Allison Booth's mystery novel featuring Holmes creator, Arthur Conan Doyle. Conan Doyle is on a trip seeking peace and respite from his notoriety. He is thankful for sales of his Holmes stories, but the character itself complicates his life. He sets off to find a week or two of rest in a quaint Swiss village hoping to gather his senses and his sense of self. Unfortunately, those he meets, especially an annoying young man, will not let him forget his larger than life creation, Sherlock Holmes.The Reichenbach Problem is very reminiscent of the Conan Doyle stories and is told in Conan Doyle's first person voice. I really wanted to like this book, but I just could not connect with the story or the characters. The writing style also did not capture my attention. While I did not enjoy the story, I think diehard Holmes fans will.(Thanks to Kregel for a review copy. The opinions expressed are mine alone.)
Review by Moonpie72
16/06/2015
As a fan of Sherlock Holmes books, I must applaud Mr. Booth on his amazing ability to capture the personality and writing style of the real Arthur Conan Doyle. I felt like I WAS reading Sherlock Holmes.Fame has proven more than Arthur Conan Doyle can handle so he decides to take a vacation in hopes of finding his family a new home where his celebrity status will not be under such scrutiny. He heads to Switzerland to the peaceful little town of Reichenbach Falls. His grand expectations of an escape into anonymity and peace are shattered when Richard Holloway must share his railroad car and recognizes him. Doyle is annoyed yet polite to his unwanted guest assuming that upon arrival they will go their separate ways. Once the train arrives, Holloway attaches himself to the leery author and even declares them friends to everyone. Not long after his arrival a man is found dead and it is unknown if he is fell or pushed off a precipice. Pushed by Holloway to investigate the murder, Doyle finds himself being the prime suspect! Father Vernon, the local priest, is very helpful and caring in supporting Doyle, but could he possibly be withholding information? The writing was rich in detail and description. Not just in what he saw, but also his opinions and perceptions of events and people. A wonderful mystery! I received this book free from Kregel Publishers. I was not required to write a positive review. The opinions I have expressed are my own.
Review by mitchma
16/06/2015
This was the first ever book I won through Early Reviewers (July 2013) after trying since March 2010. I was so excited and anxious to receive this book. I waited and waited. I found an email address for the publishing company and wrote. I received a gracious reply and finally, a copy of the book. Too bad it wasn't worth the wait or the effort.If slogging through every thought the narrator has and endless descriptive paragraphs about the varied landscapes he encounters and the people he meets is your idea of a fun read, then by all means go for it. By the time I reached the mystery and solution thereof, I didn't care anymore.I love and adore books. It hurts me to not like one, but I couldn't like this one and wouldn't recommend it.
Review by AmandaWrites
16/06/2015
This look at Sir Arthur Conan Doyle is extremely interesting. Forced to look at his own literary creation and how, if he were to actually meet Holmes, how they would view and react to each other was the satisfying premise of this book.<br/>Well written with just the right amount of detail, Mr. Booth takes us on a most interesting and thought-provoking ride into the psyche of what Doyle might have actually been like - as well as Holmes.<br/><br/>Doyle is a well-mannered gentleman who has the unfortunance to be hounded by the fan - or the fanatic - Holloway who haunts his every step on his much needed vacation away from the pressures of not only his celebrity status, but also of Holmes. Unable to accomplish either, he is unwillingly swept into investigating the death of poor Mr. Brown.<br/><br/>Written much like Doyle's Holmes stories, I found this book to be satisfying in almost every aspect. From the scenery to the end. I would recommend this to those who loved the Holmes stories.<br/>*I received a complimentary book in exchange for my honest opinions. I was not required they be positive.*
Also by Martin Allison Booth