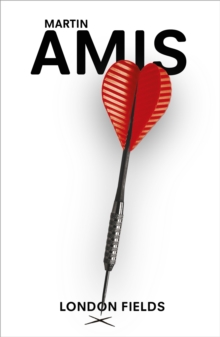 Description
There is a murderer, there is a murderee, and there is a foil.
Everyone is always out there searching for someone and something, usually for a lover, usually for love. And this is a love story. But the murderee - Nicola Six - is searching for something and someone else: her murderer.
She knows the time, she knows the place, she knows the motive, she knows the means.
She just doesn't know the man. London Fields is a brilliant, funny and multi-layered novel.
It is a book in which the narrator, Samson Young, enters the Black Cross, a thoroughly undesirable public house, and finds the main players of his drama assembled, just waiting to begin.
It's a gift of a story from real life...all Samson has to do is write it as it happens.
Information
Format: Paperback
Pages: 544 pages
Publisher: Vintage Publishing
Publication Date: 03/06/1999
Category: Crime & mystery
ISBN: 9780099748618
Other Formats
Hardback from £10.19
EPUB from £4.99
Free Home Delivery
on all orders
Pick up orders
from local bookshops
Reviews
Showing 1 - 5 of 6 reviews.
Previous | Next
Review by soylentgreen23
16/06/2015
My first Amis - I haven't read Amis Sr. yet, though I have long been encouraged to - and, when I read it, I thought it was perfect. I want to reread it, but I daren't - what if it wasn't as good as I thought?So what do I like so much? I like the language - those teeth Amis put in his mouth by way of his wallet surely gleam down on his typewriter. I like the fastforward/rewind method of intertwining the stories. I like the ending - so much, it hurt.
Review by ecevans
16/06/2015
blistering and humane at the very same time, Keith, the main character is as toxic as his wife and child are heartbreaking. The narrator is amazing and his dance with Nicola Six one of the most strange relationships in all literature. Amazing. Read it.
Review by Widsith
16/06/2015
London Fields is a book with a plot so pointless it made me angry, and a cast of blatant stereotypes. It's distinguished by some flourishes of wonderful writing, and the presence of one character who is one of my favourite creations of modern British fiction.Initially, there is plenty to like. The narrator – a failed American writer on a house-swap in London – has an engaging line in self-doubt, a brooding sense of millennial disaster, and a neat turn of phrase. The traffic-clogged, grimy streets of London, its monotonous weather and its sweaty pubs, are perfectly evoked and give the whole novel a very effective tone of edginess, latent violence, and even what comes to feel like looming apocalypse. The plot focuses on a girl with the delightful name of Nicola Six, who, thanks to a kind of second sight, knows that she will be murdered on the night of her thirty-fifth birthday; she also knows who will do it, and, in many ways, she positively wants it to happen.The narrator has been asked by Nicola to tell her story – and he throws himself into it with gusto, developing close relationships with her and with the putative murderer, Keith Talent, and the foil, Guy Clinch. Keith, a petty criminal and amateur darts player, is a fantastic and original character, and the book lifts to a higher level every time he's on the page. With his chain-smoking, his string of girlfriends, the long-suffering wife, and his general lager-and-sports demeanour, he can seem a bit of a type. But there's something so pleasurable about how perfectly Amis has skewered the type that it doesn't seem like a problem. His dialogue in particular is a joy, no more so than when he and his friends are discussing darts, in an endless stream of pundit's clichés:'You can't argue with finishing of that quality. No way.''It was a stern test,' said Thelonius deliberately, 'of your darting character.'Bogdan said, 'You responded to the – to the big-match atmosphere.''The choice of venue could have posed problems to a lesser player,' said Dean. 'You fended off the. . .''You disposed of the. . .''Challenge of the. . .''Brixton left-hander,' said Thelonius with a sigh.It is the more impressive that Amis does not allow you to regard Keith simply as comic relief; he is also behind most of the disgust and anger that the reader feels. He's a nasty piece of work – a wife-beater, pornographer, and statutary rapist who makes regular trips to a fifteen-year-old prostitute.Perhaps this is the first clue to a pervasive hatred that underlies much of Amis's writing. It shows itself in a constant low-level intolerance, sometimes in the form of bizarrely xenophobic outbreaks about "the blacks silent with unreadable hungers", and on one occasion the comment that "black people are better at fighting than white people, because, among other reasons, they all do it". How much of this is Amis and how much his narrator is, of course, difficult to say.It all crystallises in the character of Nicola. I found her really the most pitiful example of what literary theorists like to call the "male gaze" that I've ever come across. Young, beautiful, sexually irresistible, she is described in long voyeuristic and faintly implausible passages in which she evaluates herself as a sex object:she stood naked in the middle of the warm room. Her mouth was full, and unusually wide. Her mother had always said it was a whore's mouth. It seemed to have an extra half-inch at either wing, like the mouth of the clowngirl in pornography.Nicola prowls about this novel like a embarrassing fantasy of Amis's, endlessly peeling off pairs of stockings, mulling over what kind of underwear to put on, having long contemplative baths, or thinking about masturbation. And by the way, Martin, you can't just get out of it by including an exchange like this one:'I'm worried they're going to say you're a male fantasy figure.''I am a male fantasy figure. [...] You should see me in bed. I do all the gimmicks men read up on in the magazines and the hot books.'Ah yes the sex. Nicola, you are unsurprised to learn at this point, is a bit of a goer. And wouldn't you know it, what she particularly likes is to take it up the arse.Sodomy pained Nicola, but not literally; it was its local prevalence, as it were, that pained her so greatly. It was the only thing about herself that she couldn't understand and wouldn't forgive. [...] No, not everybody did it. But Nicola did it. At a certain point (and she always vowed she wouldn't, and always knew she would) Nicola tended to redirect her lover's thrusts, down there in the binary system. . . .I'm not saying that no women are like this. I'm just saying that Martin Amis offers the least convincing portrait of one that I've ever seen. The sex, and the dark sexual secrets, are just one aspect of what starts to seem like a frightened fascination with women in general. When Nicola is sure of something, she feels it "in her tits". We follow her into the toilet; whole scenes revolve around her urinating, menstruating, or in some other way secreting something which makes Martin Amis uncomfortable.And when she appeared at the top of the stairs – the white dressing-gown, the hair aslant over the unpainted face – I fielded the brutal thought that she'd just had fifteen lovers all at once, or fifteen periods.What does this seem like, if not fear and ignorance? It's a big problem, because Nicola is so pivotal to the plot and such a central character in the book. For the novel to work, you have to accept her, and understand her – that she wants to die, that she is spending so much time deliberately facilitating her own murder. But why? There is no real reason offered except for a general apocalyptic atmosphere and a few melancholy comments about how she feels that she's "come to the end of men". It's not enough.There is a playful twist at the end, and a sort of satisfaction in how things are resolved. But I was left with a lasting irritation at how flimsy the plot was, which got in the way of my enjoyment at Keith and some of Amis's elegant sentences. Thinking back now, I still remember some wonderful passages. But I also still feel annoyed at how ridiculous Nicola was. The whole novel had the disconcerting air of being a great book, written by a twat.
Review by kirstiecat
16/06/2015
I read this a few weeks ago but was in my typical maelstrom of work and shooting shows and never had a chance to write about it. Ok, well, one thing that just really strikes me about the book more than anything is how vivid the characters are and if you like rich characterizations, this book is for you. I also think the story line has quite a few twists and that the book on the whole seems filled with hints of what I would call early experimental fiction characteristics. I'd be pretty surprised if Paul Auster wasn't a fan.
Review by beabatllori
16/06/2015
I'm a tad confused about this one. I really, really wanted to like it. The premise is awesome, the characters are complex and three-dimensional, the writing is top-notch. But somehow it manages to be unbearably <i>slow</i> too. <br/>It makes me angry, because it's been my first Martin Amis, and I can't help but admit that he's one of the best authors I've encountered for some time, as in "ooooh, this paragraph is so literary, and this one, and this one". But he keeps using that talent to go over the same things over and over again, and you end up frustrated, because you already understand everybody's motives and you have for the last 200 pages, and you just want the story to freakin' move FORWARD.<br/>Martin Amis is an awesome writer in each and every isolated paragraph. But on the whole, it just didn't work for me.