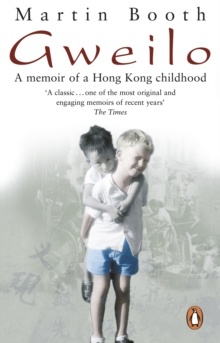 Gweilo: Memories Of A Hong Kong Childhood
Paperback
Description
Martin Booth died in February 2004, shortly after finishing the book that would be his epitaph - this wonderfully remembered, beautifully told memoir of a childhood lived to the full in a far-flung outpost of the British Empire...An inquisitive seven-year-old, Martin Booth found himself with the whole of Hong Kong at his feet when his father was posted there in the early 1950s.
Unrestricted by parental control and blessed with bright blond hair that signified good luck to the Chinese, he had free access to hidden corners of the colony normally closed to a Gweilo, a 'pale fellow' like him.
Befriending rickshaw coolies and local stallholders, he learnt Cantonese, sampled delicacies such as boiled water beetles and one-hundred-year-old eggs, and participated in colourful festivals.
He even entered the forbidden Kowloon Walled City, wandered into the secret lair of the Triads and visited an opium den.
Along the way he encountered a colourful array of people, from the plink plonk man with his dancing monkey to Nagasaki Jim, a drunken child molester, and the Queen of Kowloon, the crazed tramp who may have been a member of the Romanov family. Shadowed by the unhappiness of his warring parents, a broad-minded mother who, like her son, was keen to embrace all things Chinese, and a bigoted father who was enraged by his family's interest in 'going native', Martin Booth's compelling memoir is a journey into Chinese culture and an extinct colonial way of life that glows with infectious curiosity and humour.
Information
Format: Paperback
Pages: 384 pages
Publisher: Transworld Publishers Ltd
Publication Date: 01/08/2005
Category: Biography: general
ISBN: 9780553816723
Free Home Delivery
on all orders
Pick up orders
from local bookshops
Reviews
Showing 1 - 5 of 9 reviews.
Previous | Next
If you have ever lived in Hong Kong then this should evoke some lovely memries. It was incredible to read of places that I was fortune enough to visit and to get to koww 30 years after Martin. The saddest thing is that there will be no second volume. A beautifully recounted reminiscence of a childhood that made me very 'homesick'.
Review by akeela
16/06/2015
This is the delightful account of a 7-year-old adventurous kid who traipses around Hong Kong in the 1950s, exploring the city when his dad's "posted" there from England for three years. An enjoyable memoir.
Review by danielbeattie
16/06/2015
Amazing book, especially if you have ever been to Hong Kong. Booth takes us through his extraordinary childhood, and guides us inside the (now torn down) Walled City. A vivid description of Hong Kong, and a declaration of love for a very special place. I really recommend this book for anyone with an interest in HK.
Review by mrtall
16/06/2015
I enjoyed Martin Booth's memoir recounting the heart of his childhood as an expat brat in 1950s Hong Kong. It's evocative and detailed, and as an expatriate living in Hong Kong myself, it's an essential read.But I don't share the complete delight with the book that many others do, for a couple of reasons. First, I acknowledge that a degree of 'novelizing', i.e. making stuff up, is allowable in a memoir. But there are long stretches of <i>Gweilo</i> I found essentially unbelievable, e.g. the bit when a Triad bigwig takes the eight-year-old blonde Booth on long guided tours of the opium dens and whorehouses in the Kowloon walled city. Second, I was wearied by Booth's rabid attacks on his father's character and habits. Fine, I'm more than willing to believe his father was a jerk. But a couple of incidents would have established this sufficiently. Booth is unwilling to let his antipathy toward his father rest, both poisoning the delight of his other recollections, and undermining the believability of his characterizations. That is, I find it hard to believe his father really was the ogre depicted here, and that his mother (who wears a halo throughout) could really have been such a paragon. These criticisms aside, I still strongly recommend this window into a vivid and eventful time and place.
Review by kblaas
16/06/2015
I read this book after a two week visit to Hong Kong, and found it a lovely read. Seeing the same city in the past from a seven year old's eyes was a delightful twist on my own experience. We rambled up the same mountains and the same streets, even though the scenery was quite different. Fun to read even if you have not been to HK, but a must if you have ever lived or visited that wonderful, chaotic city.