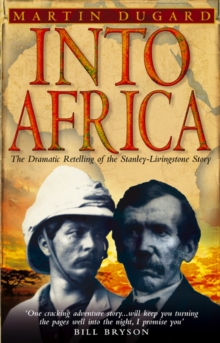 Into Africa : The Epic Adventures of Stanley and Livingstone
Paperback
Description
In 1866 Britain's foremost explorer, Dr David Livingstone, went in search of the answer to an age-old geographical riddle: where was the source of the Nile?
Livingstone set out with a large team, on a course that would lead through unmapped, seemingly impenetrable terrain into areas populated by fearsome man-eating tribes.
Within weeks his expedition began to fall apart - his entourage deserted him and Livingstone vanished without trace.
He would not be heard from again for two years. While debate raged in England over whether Livingstone could be found in the unmapped wilderness of the African interior, James Gordon Bennet, a brash young American newspaper tycoon, hatched a plan to capitalise on the world's fascination with the missing legend.
He commissioned his star reporter, Henry Morton Stanley (born John Rowlands in Wales!), to search for Livingstone.
Stanley undertook his quest with gusto, filing reports that captivated readers and dominated the front page of the New York Herald for months. INTO AFRICA traces the journeys of Livingstone and Stanley in alternating chapters.
Livingstone's is one of trials and set-backs, that finds him alone and miles from civilisation.
Stanley's is an awakening to the beauty of Africa, the grandeur of the landscape and the vivid diversity of its wildlife.
It is also a journey that succeeds beyond his wildest dreams, clinching his place in history with the famous enquiry: 'Dr Livingstone, I presume?'.
In this, the first book to examine the extraordinary physical challenges, political intrigue and larger-than-life personalities of this legendary story, Martin Dugard has opened a fascinating window on the golden age of exploration that will appeal to everyone's sense of adventure.
Information
Format: Paperback
Pages: 416 pages
Publisher: Transworld Publishers Ltd
Publication Date: 01/05/2004
ISBN: 9780553814477
Free Home Delivery
on all orders
Pick up orders
from local bookshops
Reviews
Showing 1 - 3 of 3 reviews.
Review by sylviaxxx
16/06/2015
In 1871 Henry Stanley Morgan set out to locate the missing Livingstone in the heart of darkest Africa. This is his story and one that grips the reader with a wealth of detail that you had no idea could be so enthralling. I am left with a profound respect for the arduous nature of travel in those early days, and the lengths that these individuals could endure, in order to further scientific knowledge.
Review by bookcoll
16/06/2015
The best telling of Stanely & Livingstone I've read so far.
Review by siri51
16/06/2015
When Livingstone died he had malaria, anemia, hookworm, dystenary and an enormous bloodclot. he was 60 and had been wandering Africa for 8 years (on this journey). On a previous journey his wife missed him, came to Africa to be with him but died of malaria. He hardly knew his children. A driven personality, suffering so much to find the Source of the Nile (unsuccessfully, we had to wait for sateliite technology to find it). Stanley was also a determined man, but a different motive - a journalist looking for the scoop.The story set against the background of African colonialism, the slave trade and environmental extremes was fascinating.