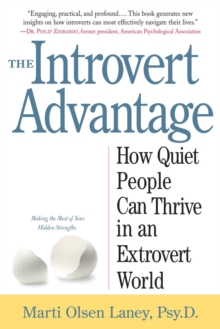 The Introvert Advantage : How to Thrive in an Extrovert World
Paperback
Description
One out of every four people feels overwhelmed at the thought of a business meeting, dreads walking into a party, hates having to make small talk with strangers, feels alone in a crowd - and always prefers to sit on the sidelines and observe.
They're introverts, and now comes the book to buttress their resolve and help them find understanding and success living in an extrovert world.
After dispelling common myths about introverts - they're not antisocial, they're not necessarily shy or aloof - BEING AN INTROVERT IN AN EXTROVERT WORLD explains the real issues.
Introverts are hardwired from birth to focus inward, so outside stimulation can easily become "too much" - chitchat, phone calls, parties, office meetings can all be overwhelming, sending introverts fleeing for a quiet corner.
Information
Format: Paperback
Pages: 256 pages
Publisher: Workman Publishing
Publication Date: 01/02/2002
Category: Popular psychology
ISBN: 9780761123699
Free Home Delivery
on all orders
Pick up orders
from local bookshops
Reviews
Showing 1 - 5 of 8 reviews.
Previous | Next
Review by silentq
16/06/2015
I can give people this book as a manual for understanding me. I wish that I'd found it when I was a teen ager, but even after painfully figuring out mostly how to deal with extroverts without my going nuts, I still found lots of useful tips in here. The most valuable thing was learning that I don't need to feel guilty about saying that I don't have the energy to go to a party, or that I have to leave early. It's okay, that's what I need. Highly recommended for anyone with any level of introversion, and those who care for them.
Review by lunaverse
16/06/2015
The world seems filled with people who are outgoing and friendly. For those of us with an introvert personality type, it can seem a little overwhelming.Introversion is often treated as a psychological abnormality, but in fact, it is just another personality type. The brain of an introvert is wired differently, which gives basic advantages as well as the apparent disadvantages.If you suspect you may be an introvert, if you feel more comfortable and energized by spending a quiet evening at home, this book will help you understand yourself better. If you suspect someone you love is an introvert, the book is equally valuable.
Review by jewels1864
16/06/2015
As an introvert, it was very comforting to read this book and be able to say "Yes! That's how I feel sometimes!" to many of the characteristics of introverts and to read that there is actually a biological reason for the personality of an introvert. It is comforting knowing that other people experience the same things such as the mind going blank in groups or under pressure, having trouble finding a word when speaking out loud (due to a longer brain pathway that has to be traveled), and not speaking up in meetings/discussions because "in large groups they usually find it hard to both absorb the new information and formulate an opinion about it. They need time away from the meeting to sift and sort the data."The author also includes helpful suggestions for overcoming certain social situations like dating, parties, and work situations that are worth trying and keeping in mind. The book should also be helpful for any introverts trying to write a resume as it helps elucidate the strengths that an introvert has and the contributions they bring to the workplace. What you will not find, however, are suggestions of careers for introverts.
Review by bkinetic
16/06/2015
Laney examines the desirable characteristics of introverts from several points of view including an impressive biopsychological perspective. The depth of analysis combined with the easy-to-read prose makes this an exemplary book.
Review by lyndanorth
16/06/2015
This is one of the best books I've ever read. It is page after page of "Ah Ha!" moments. It is healing to find that many of the things that frustrate me about myself, and have previously seemed like unfair short comings, are experienced by other introverts. I feel more at home with myself now, more excepting, and happier to just be me. This is an amazing book. If you are an introvert, you really must read this.