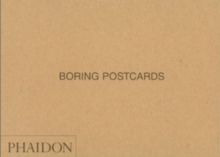 Boring Postcards USA
Paperback
Description
In Boring Postcards Magnum photographer and postcard enthusiast Martin Parr brought together 160 of the dullest postcards of 1950s, 60s and 70s Britain to make a book that was, contrary to the conceit of its title, both fascinating and extremely funny.
It was one of those ideas that seemed so obvious that no one could believe it hadn't been done before, and it caught the public imagination in a big way.
In Britain Boring Postcards was discussed everywhere from daytime TV shows to art and design magazines, from local newspapers and radio stations (outraged that their town should be labelled 'boring') to Time magazine.
Now Parr has turned his attention to the USA for a new book of Boring Postcards.
Just as before, for a postcard to qualify as sufficiently 'boring', either its composition, its content, or the characters featured must be arguably boring or the photograph must be absent of anything that might conventionally be described as interesting.
As the study of postcards becomes a field of academic interest, this book offers more than amusement: as a folk art recording of the non-places and non-events of post-war America, it reveals poignant insights into its social, cultural and architectural values.
Information
Format: Paperback
Pages: 176 pages
Publisher: Phaidon Press Ltd
Publication Date: 01/02/2004
Category: Photographs: collections
ISBN: 9780714843919
Free Home Delivery
on all orders
Pick up orders
from local bookshops
Reviews
Showing 1 - 3 of 3 reviews.
Review by Spoonbridge
16/06/2015
As a postcard aficionado, I have long admired the art of the postcard (or at least the art of selecting the best image to represent place), so I really appreciated the quirky mix of aesthetic and pure representation of place collected in Boring Postcards USA. Originating from roughly 1950s to the 1970s, these postcards show an America celebrating the everyday life of a prosperous postwar country, acting as advertisement as much as souvenir. With subject matters that may seem frankly unexciting, i.e., stretches of anonymous highway, one indeterminable from another, shown in faded midcentury color with pale blue skies and pale green laws and trees, they can hide deceptive insights. These cards, were, after all, created to advertise the existence or place of something, whether seedy looking truck stops, fortress-like college dormitories, or vast airport parking lots, these images provide a glimpse of how mid-twentieth century America wanted itself to be seen.I enjoyed thinking about some of the stories behind a few of the cards and wondering what they are like today, if they still exist; See the site of the proposed larger taconite plant in Grand Rapids, Minnesota (no doubt now entirely deforested). Witness the roomy storage capacity of the 1974 Ford Econoline. Check out the Northway Mall Shopping Center in Pittsburgh (it has a Woolworths!). Boring postcards do still turn up today, they still do print "Traveling on Beautiful 1-84" and I am not ashamed to admit I picked one up. In any case, a fun, quickly absorbed coffee table book, perfect for fans of Americana and postcards.
Review by mzebra
16/06/2015
Not much to read here. This is an excellent collection of truly boring postcards. Good for a coffee table and a great gift for your kitsch aficionados.
Review by m.gilbert
16/06/2015
One person's boring could be another person's sublime. While I wouldn't quite use the word 'sublime' to describe the images in this book, there is something oddly fascinating, even moving, about the images here. Boring Postcards Usa is a very kitschy collection of postcards of various "ordinary" locations throughout the united states: dolled-up motel rooms, middle-of-no-where diners, highway turnpikes, department stores, airport terminals, trailer parks, and old-folks' homes. Include in the eclectic mix bank buildings, army barracks, gas stations and downtown, old-town main street intersections. The strangest postcard (to me, at least) is of a set of mechanical gears, the caption reading: "PIC features a complete line of spring-loaded, anti-backlash spur gears, worm wheels and miter-gear sets" with said objects lovingly displayed on a garish avocado green counter-top like a set of jewels.the images themselves are represented in a 1950's technicolor, a dim red having one foot still in black and white and so not looking quite that red yet, or the opposite effect, that is, a hyper-red that's almost cartoonish, as if to say, "look, we've got color now". In any case, the technicolor images are clearly of a 1950's America (there are no specific captions and no art commentary beneath the images) and in many ways reflect an upbeat post-war optimism, as one critic put it, a pride in what most would consider banal today but back then a triumph of consumer culture and economic prosperity. To look at this collection is a real exercise in perspective, not merely artistic but historical. Back then Woolworth's new department store in Hibbing, Minnesota was indeed a site to behold, as was Dam #15 on the Mississippi. And machine gears were the pride of PCI. This is one of my favorite "art books" because it's funny, for one, but moving and sad, too, like the postcards of gas stations that look forlorn despite their eager readiness to fill cars fresh from a then prosperous and productive Oldsmobile Plant three in Lansing, michigan (also a postcard). It's an exploration and, well, a celebration, I'd say, of American life that was happy and proud and hopeful. It also reminds me that there's a kind of poetry in everything, a lyricism that would easily be overshadowed by mere functionality and use-value. Instead, this celebration of the banal underscores the fact that behind every bank building facade and tidy motel room bed were real people who created something, not a work of art per se nor even a silly diversion, but a work worthy of recognition for what it symbolized and what it meant to everyday folks of a less complicated time.